Comics / Manga / Yaoi Manga
Fumi Yoshinaga: Don't Say Any More, Darling (Yaoi Manga)
By Leroy Douresseaux
July 13, 2007 - 12:48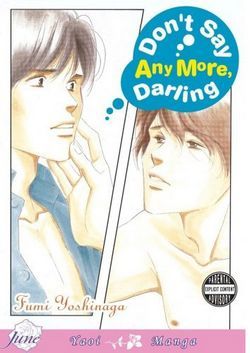 Thanks to Amazon.com for the image.
TRANSLATION: Sachiko Sato
Yaoi manga is boys' love (the depiction of love between two males) comics that feature explicit sex between the male characters, and manga-ka (creator) Fumi Yoshinaga is a beloved figure for such yaoi manga as Lovers in the Night and Gerard & Jacques. Don't Say Any More, Darling is a collection of short stories, not all of them boys' love, and not all of them necessarily yaoi.
In the title story, Kouhei has been providing food for his destitute high school friend, Tadashi, a failed song lyricist. When they were in high school, the two had a boys' love moment, but Kouhei struggles to admit that he thinks of Tadashi as something more than just a friend. Whatever the two might have is endangered when Kouhei's parents try to set him up with an arranged marriage.
In the creepy "My Eternal Sweetheart," Ruffwood, a doll-maker (he makes androids), builds a sexaroid (androids constructed for sexual pleasure) for his 15-year old brother, Arthur, who lives a virtual prisoner in his mansion because of his ineffectual immune system. Arthur, however, asks for another sexaroid, and soon has a harem of male sexaroid lovers. When Arthur lashes out in violence, Ruffwood must confront his own past and Arthur's identity.
In the Rod Serling-like, "Fairyland," a young man confronts his loneliness in a world in which God has seemingly wiped away humanity, and he must answer the question, "Do I hate people so much that I really want to be alone… forever?" In "One May Day," a man finds his new wife's obsessive need to please him attractive. The make-up sex after she does something to annoy him (even if it's minor) is great, but when does being dutiful become annoyingly subservient?
THE LOWDOWN: The opening story, "Don't Say Any More, Darling" is a piffle, and were I judge the entire volume on it alone, I couldn't give this volume much of a passing grade. It is the middle stories, not the bookends that make this volume worth a look. The disturbing "My Eternal Sweetheart," depicts criminalized sex acts, but has an uncanny poignancy. "One May Day" would make an excellent Oscar-bait film if two great actors played the leads.
FOR READERS OF: Don't Say Any More, Darling is an eclectic treat for the adventurous yaoi readers.
B
Last Updated: January 24, 2022 - 11:00