Fumi Yoshinaga's Flower of Life 4
By Leroy Douresseaux
June 21, 2009 - 19:19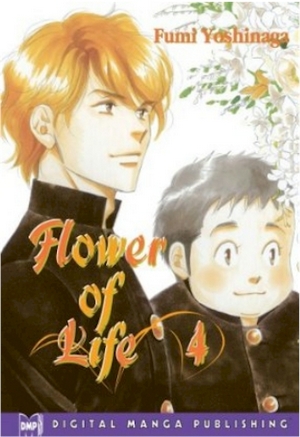 Flower of Life 4 cover image is courtesy of Anime Castle Books.
Drama/Comedy; "YA" for Young Adults-16+
The school year is winding down as Flower of Life 4 opens. Harutaro Hanazono, the student who began school late because he was recovering from leukemia, and his chubby little pal, Shota Mikuni, a manga aficionado, are working on their own doujinshi (amateur manga). The duo is also part of a manga club with their friend Kai Majima, a sullen athlete, and Takeda, a pretty girl who is a shojo manga fan.
Meanwhile, Shigeru Saito, the female teacher who looks and acts like a gay man, decides to break off an adulteress affair with a married man named Koyanagi and instead continue her affair with her student Kai Majima. Harutaro's sister, Sakura, struggles with a secret about Harutaro with which her parents have burdened her. Harutaro and Shota catch the attention of a gruff editor at a manga publisher. The editor decides to help the boys produce a manga short story, one that if good enough, will be entered in an upcoming manga contest. Will Harutaro and Shota be able to draw a high quality manga and also pass their final exams?
THE LOWDOWN: While manga-ka Fumi Yoshinaga is known as the creator of explicit boys' love manga such as Lovers in the Night and Gerard & Jacques, she is equally adept at creating heartfelt young adult tales about high school students. Flower of Life is a comedy/drama (or dramedy) about the struggles that young people face: finding true friends, managing meaningful relationships, discovering their identities, etc. There's no time for heavy petting when you're too busy wondering if you get to stay in the same class as a cherished friend the next school year?
Not only are the lives of these characters so fascinating, they also feel authentic. It's like peeking in on real friends. These stories, drawn in an emotive, shojo style, aren't melodrama. They're potent tales from the drama called life.
POSSIBLE AUDIENCE: A "Young Adult" title, Flower of Life 4 will appeal to fans of high school drama; even fans of the Degrassi television series might like it.
A
Last Updated: February 5, 2023 - 09:06