Comics / Manga / Yaoi Manga
Fumi Yoshinaga's Truly Kindly
By Leroy Douresseaux
September 9, 2007 - 09:42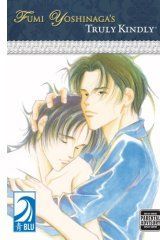 Thanks to Amazon.com for the image.
Fumi Yoshinaga's Truly Kindly is a collection of boys' love or "BL" (romance comics for women that depict love between two male characters) short stories that fall somewhere between shounen-ai and yaoi – being a little too racy for the former and not quite explicit enough for the latter.
In the opening tale, "Truly Kindly," a petulant lyricist runs from his apartment after apparently killing his lover and right into the arms of a seemingly immature young man who is just plain creepy… and perhaps dangerous. In "A Slightly Malicious Confession," college buddies meet to celebrate a wedding anniversary, but find old love coming full circle. Two school pals reluctantly discover that separation is pain in "A Yesterday Completely Different from Today."
Yoshinaga also sets three tales in 18th century France. In "Chinoiserie," an aristocrat accepts his lady friend's half-Chinese/half-French servant as a replacement lover. This volume also includes "A Butler's Proper Place," the prologue to the Yoshinaga's stand alone single-volume, Lovers in the Night.
THE LOWDOWN: Fumi Yoshinaga is a prolific creator of boys' love manga, and she manages to build her narratives around engaging characters and not always on material that might appeal to the reader's prurient interests. She also has the ability to add twists and shocks in her stories that seem quite natural in the context of the story, and that certainly shows here. The mix of poignancy and surprises make this an engaging if not potent story collection.
POSSIBLE AUDIENCE: Fans of Fumi Yoshinaga will like this as well as readers looking for R-rated rather than NC-17-rated "BL."
B
Shop Blu at the Amazon aStore.
Last Updated: January 24, 2022 - 11:00