Fumi Yoshinaga's Garden Dreams
By Leroy Douresseaux
June 6, 2008 - 11:59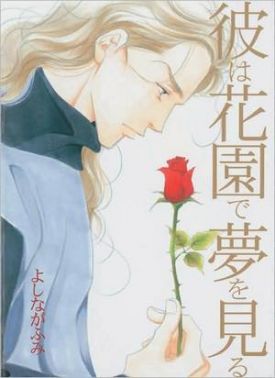 DMP's edition of Garden Dreams keeps the image from this Japanese edition, but drops the Japanese characters.
Rated "T" for "For Teens 13+"
Garden Dreams, a stand alone graphic novel by Fumi Yoshinaga (Antique Bakery), is a suite of four tales intertwined by the relationship between a traveling bard and a lonely feudal lord.
In "The Baron's Daughter," traveling bards Farhad and his younger brother Saud travel from the East and enter the western world, Europe. There, they enter the barony of Victor, Lord of the House of Bianni, and meet the Baron's daughter, Antiette, who has a shocking connection to one of the newcomers. Later, Victor shares his story of love lost and a tragically beautiful garden in "Garden Dreams."
"Just the Way You Are" finds Saud meeting the handmaiden Natalie, while Victor worries that he will be abandoned again. "After the Dream" closes the book by examining which path Victor and Saud will take – tragedy or domestic tranquility.
THE LOWDOWN: Fumi Yoshinaga excels at these period pieces, which she blends as a mixture of historical fiction and character drama. Her simple, yet evocative panels sell her stories and transport the readers to another time, but she doesn't do this with lavishly decorated panels filled to the brim with sumptuous sets, drawn in a worried over style. Many of her panels focus on the characters, often a single character. In this way Yoshinaga can emphasize emotion and mood – the internal workings of her characters. Background details are sparse, but when added enrich scenes by coloring and establishing a moment of time or the passage of time.
Fumi Yoshinaga is truly an exceptional comics storyteller who understands how powerful uncomplicated, but delicately rendered drawings can be. In the hands of a skilled storyteller, which she obviously knows she is, it makes for winning comics.
POSSIBLE AUDIENCE: Fans of historical drama will love the way Yoshinaga can so easily transport readers into her worlds.
A
Last Updated: January 24, 2022 - 11:00