VIZ Media to Publish Fumi Yoshinaga's Ooku
By The Editor
August 7, 2009 - 06:59
VIZ MEDIA PRESENTS THE HISTORICAL AND ROYAL INTRIGUE OF ŌOKU: THE INNER CHAMBERS MANGA SERIES
Award-Winning Historical Science Fiction Drama Set In An Alternate Version Of Edo Japan Where Gender Roles Are Reversed
VIZ Media, LLC (VIZ Media), one of the entertainment industry's most innovative and comprehensive publishing, animation and licensing companies, has announced the release of ŌOKU: THE INNER CHAMBERS, Fumi Yoshinaga's historical manga epic set in an alternate version of Edo-era Japan. ŌOKU which will be released under the company's VIZ Signature imprint on August 8th, is rated 'M' for Mature Audiences and will carry an MSRP of $12.95 U.S. / $15.00 CAN.
In Edo period Japan (1603 to 1868), a strange new disease called the Redface Pox has begun to prey on the country's men. Within eighty years of the first outbreak, the male population has fallen to a quarter of the total female population. Women have taken on all the roles traditionally granted to men, even that of the Shogun. The men, precious providers of life, are carefully protected and the most beautiful of the men are sent to serve in the Shogun's Inner Chambers.
Fumi Yoshinaga is a Tokyo-born manga creator who debuted in 1994 with THE MOON AND THE SANDALS. Her series ŌOKU: THE INNER CHAMBERS has received numerous prestigious awards, including the 2009 Osamu Tezuka Cultural Prize and the 2006 Japan Media Arts Festival Excellence Award. Fumi Yoshinaga was also nominated in the United States in 2008 for the Eisner Award for Best Writer/Artist.
"ŌOKU: THE INNER CHAMBERS is an acclaimed story that blends science fiction themes with strong female characters and will captivate readers with a mix of historical drama and royal intrigue," says Gonzalo Ferreyra, Vice President Sales & Marketing, VIZ Media. "Incorporating the richly detailed history of Edo era Japan, ŌOKU presents a unique portrayal and examination of gender roles in Japanese society. The series was a commercial as well as a critical success in Japan and we look forward to the readers in the US and Canada discovering this unique story."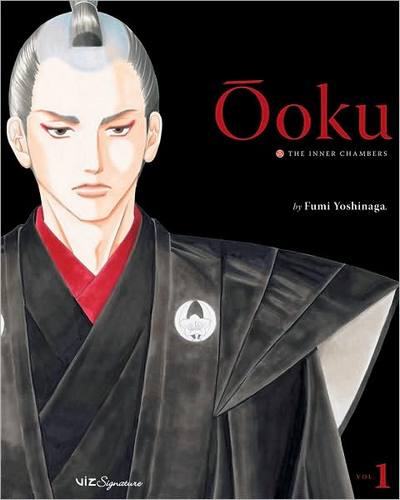 Ooku Volume 1 cover image
Last Updated: February 5, 2023 - 09:06