Toys / Comics to Toys / DCDirect
Wildcat
By Hervé St-Louis
January 12, 2004 - 14:54
Wildcat is a survivor with a will to live and the action figure created by DCDirect captures that aspect of the character very well. Wildcat is of course the Justice Society resident scrapper and boxer and one of the few surviving members of the original team, although he was not a founder. This action figure may be the only Wildcat action figure ever because although popular today, the character is obscure.

Likeness

Missing Wildcat is not difficult. He wears a long spandex suit and has whiskers. Actually, there are several interpretations of the character's face suit. Originally, Wildcat's fake ears were placed on top of his real ones. Their length changes often. Wildcat didn't always have clawed toes. His mask's cheeks also change shape often. This action figure looks a lot more like the 1970s All Star version. He has no pupils.


Sculpt

Wildcat's sculpt is controversial. Unlike most DCDirect action figures, Wildcat is in an action pose. It seems either fans like it or not. He crouches, like a boxer and looks like a hunchback. Wildcat's face lacks the finesse of other JSA figures and looks gruff. However, it works for the character has he's not some dilettante or a playboy like the rest of his team. His biceps are larger than even Metamorpho's!

Paint

Since Wildcat's suit is one colour, DCDirect could have gone cheap. They didn't. There are purple highlights all over the figure that make it look like it is discoloured. It's easier to see in natural light. While this a great feature, the real mistake in the paint is the thick skin tone applied to Wildcat's jaw. It doesn't look good because it's too pale. Some stub would have helped. Wildcat's muzzle lacks shading too.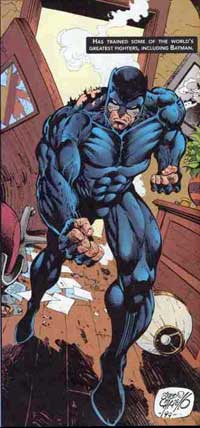 Scale

Wildcat, although crouched, fits well with the rest of the JSA figures. His body shape is much larger, than other JSA figures as he is a heavyweight boxing champion. Next to such ladies as Power girl, Phantom Lady and the Hard Travelling Black Canary. The Silver Age Batman and Guy Gardner fit well too, Wildcat fits well with all of those figures because his crouched position hides his real proportions.

Stability

Wildcat is very stable. He is one of the few DCDirect figures with ankle articulations without stability problems. They are design differently than other characters. Even if Wildcat's arms are placed in front of him and that his body crouched forward, he is very sturdy. His weight is better balanced than that of most DCDirect figures.

Articulation

Wildcat has twelve articulations at the neck, the shoulders, the elbows, the waist, the hips, the knees and the ankles. Wildcat's neck articulation looks odd when used. It would look better if his head would move sideways. He has ball-jointed shoulders which are very flexible. A rarity for DCDirect action figures is waist articulation. Wildcat's ankle articulations are sturdy.

Plastic

Wildcat's plastic mix is the same used in all older DCDirect action figures. It stinks a lot the first few months. One possible problem with this plastic is that it's easy to scratch your action figures. Other companies' plastics such as Jakks, Mattel and Toybiz' s are more resistant.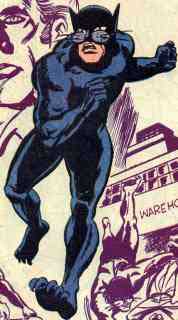 Props

There are no props with Wildcat. It makes the figure plain. Alternate hands with cut gloves at the fingers or even boxing gloves would have been great. Also, a removable helmet of an alternative head of Ted Grant, Wildcat's alter ego would have been sweet. Considering the plain sculpt on Wildcat, props would have enhanced the figure.

Packaging

Wildcat came in the standard DCDirect blister pack.

Cost

The Wildcat action figure, like all DCDirect action figures, has no set price from the manufacturer. It's up to fans to find stores with better prices. This is not fun for collectors, although for a while, Retailers dumped Wildcat in many cheap bins. DCDirect should suggest a price for this figure since the market is so skewed.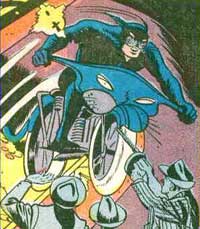 Availability

Wildcat is probably sold out from DCDirect. A simple rule about DCDirect action figures is to buy early. They tend to gather dust for a while as peg warmer and then they just vanish. It's usually when they vanish that suddenly, everybody wants one. If this has happened to you before, break the cycle and get your DCDirect figures early. Wildcat is moderately popular as action figure customizes create him often.

Read related reviews and articles such as:

Last Updated: August 31, 2023 - 08:12