Comics / Comic Reviews / DC Comics
Wildcats: Volume 4 #1
By Leroy Douresseaux
December 6, 2006 - 14:17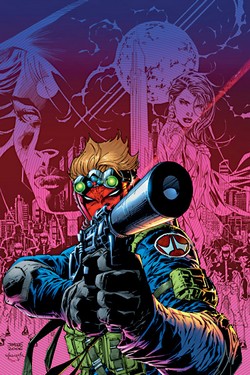 Cover to #1 (sans logo and lettering) by Lee, Willaims, and Sinclair
Wildcats, which began its life as a seminal Image title in 1992 (as WildC.A.T.s), get its third re-launch (fourth if you got the 2005 eight-issue mini-series). As wacky as it was, I liked the original version.
Like all the initial Image "new superheroes for a new generation" titles, WildC.A.T.s was a combination of fan fiction superhero and self-published superhero comics melded into one - except the artists, colorists, and letterers were big-time professionals. However, Brandon Choi and Jim Lee's wacky plots and Choi's turgid scripts were fun, pulp sci-fi and superhero junk, but good junk. Yes, I did like the James Robinson and Alan Moore revamps and repairs, but they weren't the original C.A.T.s.
I don't know where Grant Morrison is going with this new Wildcats, Volume 4, but I'm sure he does. Morrison brings back most of the original Wildcats: Spartan, Voodoo, Zealot, and the Punisher/Wolverine stand-in, Grifter. The first issue is part of the early rumblings of an event called, "Worldstorm." There's even a tired sex scene in this first issue. Grant, forgive me, I'm still either bored or don't know what's going on, but I can't say that I care about the story because…
I'm just happy that Jim Lee, Scott Williams, and Alex Sinclair give me plenty of pretty pictures. Jim Lee could knock my proverbial socks off even when he's just an art robot for a well-considered and respected bad writer of superhero junk (Jeph Loeb) or an overindulged fat cat who bought the hype hook, line, and sinker (Frank Miller). I'm going to keep buying the new Wildcats because Lee and company are once again producing gorgeous, nonsensical sequential art from a garbage script just like they did 14 years ago (except the writer's name is not Choi). And I was perfectly happy then to buy that kind of Jim Lee comic.
4/10
Last Updated: January 24, 2022 - 11:00