Sequential Art at SCAD
By Philip Schweier
Feb 9, 2004 - 8:24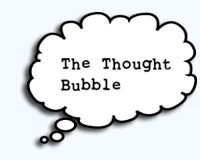 A Funny Thing Happened On The Way To The Comic Arts Forum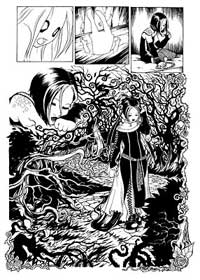 Since 1993, The Savannah College of Art & Design is one of few institutions in the country to offer both undergraduate and graduate degrees in sequential art. Some may believe the term "sequential art" to be an elitist term for comics, but the program encompasses so much more. It also includes film storyboarding, animation, game design, and children's book illustration.
"The first super-hero class we ever taught at SCAD, I taught last summer," says Professor Bob Pendarvis, a co-founder of the program. "We had the major for almost a dozen years and last summer I finally consented to teaching an actual super-hero class. A lot of people would assume that's what we do, that that's what every class is about."
Beyond the classroom, sequential art students have several opportunities to learn from people whose work is regulary published by DC Comics, Marvel, Oni Press, and other comics publishers.
One such highlights is the annual Comic Arts Forum, in which nationally recognized comics professionals visit the school for presentations, classes, and portfolio reviews. The forum permits guests to discuss sequential art concerns from many differing points of view and provides comics aficionados an opportunity to discuss the art form with a variety of top industry professionals.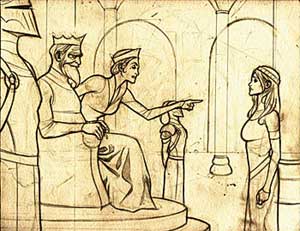 This year it will be held February 20-21. Featured guests will be Mark Chiarello, David Mazzuchelli, Tommy Lee Edwards, Mark Schultz, Jon Foster, Linda Medley, Jeff Parker, Scott Hampton, Chris Brunner, George Pratt, and Nick Dragotta. Past guests have included names such as Will Eisner, Maurice Sendak, Jules Feiffer, Jack Davis, and Bernie Wrightson.
Anyone interested in meeting the featured guests is invited to attend an open house Thursday, Feb. 19, from 5-7. Workshops and portfolio review (sorry, students only) will be held Friday and Saturday. A panel discussion will be held from 6-8 p.m. Friday in Trustees Theater. It is free and open to the public, and anyone interested in sequential art is encouraged to attend.
"I'm proud every time Comics Art Forum happens because Bob and I put a lot effort into making that happen," says instructor Mark Kneece. "It makes me feel really good when the professionals look at the work that these students are doing and they say, 'Man, your students are doing some really great work.' "
"The very first time we did it we both nearly had nervous breakdowns. We were the faculty of the sequential art department and it all rested on our shoulders, and whether it flew or crashed depended on us. We had all these big name professionals here and we didn't want to give them a bad impression of the school. Then it became a legitimate part of what the college regularly does."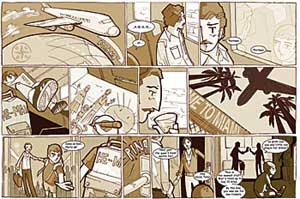 Pendarvis says the first time Will Eisner came it was because the name of the department was sequential art, a term Eisner coined. He visited again a few years later, approving of the forward momentum of the program. "I wouldn't say he endorsed SCAD," says Pendarvis, "But he stood up in front of an entire room full of parents and students and fellow professionals. I don't care what anyone else says, when Will Eisner says it, we know what we're doing."
The college also hosts Editors Day, which Kneece describes as more career services oriented. Editors from top companies visit classes and review student portfolios. "They tell us in private over dinner 'Man, I saw some really, really, nice work today,' " he says. "That always makes me really happy, that we might be doing something right."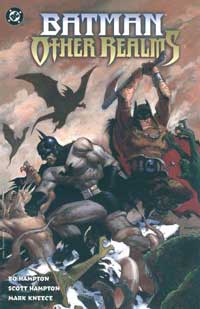 The idea for the sequential arts program originated with Pendarvis, who recruited Mark Kneece to help build it. "I met Bob in Atlanta at Dragon Con and Bo Hampton and I had a Batman book. Bob was looking for teachers to hire to start the major." Both Kneece and Hampton signed on, but soon after Hampton left to spend more time working on his next book. "I know that Bob and Bo had set things up but then the minute we started we began adjusting the program when we started seeing how the classes were working. We had to decide what we were going to do with the curriculum and there were a lot of changes to give people more of what they seem to need."
While the instructors are very confident in the path the program has taken, Pendarvis says that some students question their credentials. "We get a lot of students in the major, especially when we first started, who ask, 'Who the heck are you two? Why am I not having class with McFarland or Steranko or Romita or Ditko or somebody?' Because those guys aren't necessarily good teachers, for one thing."
Like many professions, Pendarvis says there is a specific difference between being really good at drawing comics, and good at teaching comics. "We've had professionals say 'I don't know how you guys do it. I just sit at home and draw.' They understand it's a staggering amount of responsibility." A large volume of students fill the classes, and the instructors follow the individual growth of each one, as well as develop lesson plans. "A lot of the professionals who come here say, 'Oh, my hat's off to you.' "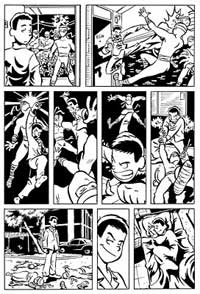 Instead of simply learning how to draw comics, students cultivate their ability to tell a story, with an emphasis on writing as well as drawing. "Some think 'What? Writing? I thought this was an art school.' Well, comics is writing AND art." says Pendarvis. "Before a student can take penciling & inking in our major, they have to take scripting.
"The writing filters in to some of our other classes. Even though you're done with the writing class, it prepares you for other classes where you're also going to be writing. It's like exercising to win in the Olympics. Even though you're not going for a gold medal in pushups, you still have to do them."
Mark Kneece conducts the script writing classes. "It's very similar to what they have in our video/film major. They have scripting classes for the same reason," he explains. "It's a story, a narrative with dialogue and all these things that you have know in order to do comics successfully."
As undergraduates progress through the fundamentals of scriptwriting, penciling, inking and color separation, they build upon work they have completed in previous classes. For example, a student might create a script in a writing class, then pencil and ink the story in a studio class. The department also offers a wide range of comics-oriented electives, including courses about Manga comics, painting, character design, and comic cover illustration.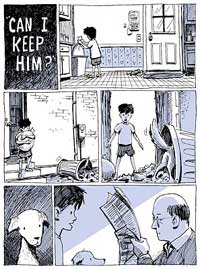 To keep pace with an increasingly computer-oriented industry, students receive instruction in digital formats. Pupils have access to state of the art computers and software to get things publisher-ready, exploring applications such as coloring and cover design, as well as professional opportunities in freelancing and self-publishing. The program also includes an alternative/experimental comics class in which students produce their own mini-comics.
"I know in the department here we've often had anthologies that people who are a bit more experienced get involved in," says Kneece. "That's something that we're always doing, really, and it happens in very direct ways, such as (instructor) Julie Collins' class where you have to get books ready for production. They color things, they size things, they clean things up, they do everything that needs to be done to get things ready to go to the printer.
"Unlike other classes where we're talking theoretically on things, this actually is working. There's a lot more urgency about what's being said when you know that it's going to get published on the other end of it."
At the graduate level, sequential art majors sharpen their skills to develop a distinctive, original style, creating a substantial body of work for their portfolios in order to prepare for a career in the industry. Graduate students are required to complete internships in teaching or in the sequential art field.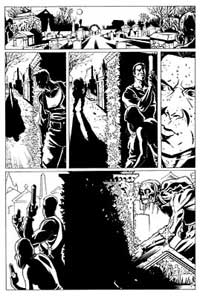 Pendarvis tells of how grad students got together on their own last summer to produce an anthology. "They contacted printers to get quotes, with deadlines to meet and had meetings on the direction of the book. If they had questions, they could come to me or Mark or anyone in the department, but what's stopping anyone from getting on the internet and finding out what it takes to get a book done? They did it. They got together, raised their money, and put the book out."
Beyond the classroom, there are a number of extra-curricular opportunities. There's the Sequential Art Club and the Shojo Phone Book Club specifically for Manga type comics. One of the activities of the groups is to pool talent and resources and publish a book. Beyond simply creating original stories, students edit and produce the book, which they take to comic book conventions.
Getting involved with other students on projects above and beyond an actual class assignment is strongly encouraged. Kneece says, "It's in interacting with those other students that they might actually get the most bang for their buck."
"But it wouldn't happen if they weren't students to begin with," he adds.
Pendarvis suggests that student interaction is a key element to their courses. "A whole bunch of these majors all end up intersecting.You're exposed to a whole bunch of other types of art which might filter in to your approach to doing sequential art. We've had students from other majors take our classes, like video students will take Mark's scripting class or animation students will take my storyboarding class."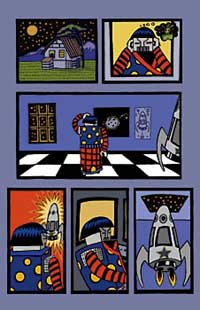 But he is quick to point out that their program is not the sole answer to developing a successful comics career. Beyond refining one's talent and abilities, art is an ongoing educational process. Graduation is only the start. "Marvel Comics isn't going to say, "Wow, since you've got a sequential art degree, you can draw Spider-Man."
The Sequential Art Forum is Feb. 20-21. at the Savannah College of Art & Design, Savannah, GA. For more information, check out their website at www.scad.edu/dept/seqa •
Praise and adulation? Scorn and ridicule? Email me at philip@comicbookbin.com.
Past Articles by Philip Schweier