Superman/Thundercats (no, I'm not kidding)
By Philip Schweier
Sep 15, 2003 - 8:51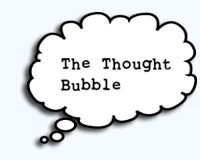 Superman/Thundercats (No, I'm Not Kidding)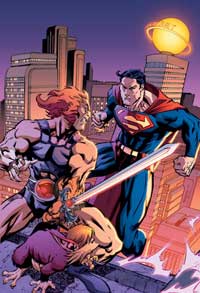 JLA/Avengers in fine, but in November, Judd Winick joins artists Alé Garza and Trevor Scott for a one-shot that has been described as "one of the most eagerly anticipated, absolutely natural team-ups: Superman/Thundercats." Of course, why did it take so long?
But with great reward comes great risk, as evidenced when DC editor Eddie Berganza asked writer Judd Winick how he felt about Thundercats.
"So Eddie Berganza, my editor on Outsiders and a few other titles, gives me a call, and he has this exhausted tone in his voice," he explained during the DC panel at Atlanta's Dragon Con over the Labor Day weekend. " 'Listen, um, you like Thundercats?' and I'm like 'Yeah!' and suddenly he wakes up with a 'Yes? Really?' and I'm like 'Yes, absolutely!' "
When Berganza offered him Superman/Thundercats, Winick seemed to have doubts. "Well, I really don't like the idea of Superman, like, hanging out with the Thundercats, you know, on Thundera. It just sounds so bad, I mean, what could be stupider?"
But according to Winick, Berganza said, "No, no, no, we think the Thundercats should come to Metropolis."
Enthusiasm back, Winick says, "Yeah, I'll do it, yeah."
"This is one of my very few all-ages books. It's a fun book," Winick continued. "Ale's drawing it, it looks amazing. In my script is written 'Snarf never actually says snarf' in any of the dialogue. He's not doing that anymore, but Jimmy Olsen is. And it works, it really does."
Also from Judd Winick, we can look forward to Caper, which debuts in October. It is a 12-issue maxi-series that delves into the world of organized crime. Broken up into 3 4-part story arcs, each features a different artist. Farel Dalrymple does the first, John Severin is on the second, and Tom Fowler is on the third.
"I always wanted to do a crime series, I love crime series, and with this one it is a 12-issue maxi-series. Three separate stories that are held together thinly by a familial line, the Weiss family.
"The first story arc takes place in turn of the century San Francisco with Jewish gangsters. It's drawn by Daryl Dalrymple, who you may know from Pop-Gun War, a terrific, terrific series that is now collected by Dark Horse," Winick explained. "It's a gangster story, but it's sort of different because it is 1906. This is before we had machine guns, and they're using revolvers and shotguns. It's the Jewish mafia, so that's also different, and it's San Francisco which is loaded with real characters, a lot of people in the story are real people. It's a blending of fact and fiction, and San Francisco in the 1900s was just insane.
The second story arc takes place in 1970s Hollywood, and is illustrated by comics veteran John Severin. "We got to do that because the man has a phone. We called him up, he said yes, which is neat. That one is kind of crime of the century, sort of Fatty Arbuckle meets O.J. Simpson 1970s."
"The last one is called On Ice, which is about two idiots who are in charge of delivering organs for transplant, and instead of delivering a pair of eyes, they get a hand, and then everybody tries to kill them. That one's like a funny one.
"It's one of the most fun titles I've done," says Winick. "I'm very excited about it. It's very violent, they use lots of harsh language, so it's not going to be like Thundercats & Superman - except Clark Kent will be in it at one point."
Praise and adulation? Scorn and ridicule? Email me at philip@comicbookbin.com.
PAST COLUMNS
Will Lightning Strike Twice?
Euro Comics
State of the Market
This is your captain?
The Incredible Hulk DVD Collection
DC vs. Marvel
Death, Take a Holiday!
Looking In on The Outsiders
News Bytes From The DC Universe
A Whole lot of Chaykin Goin' On
Superman/Thundercats (no, I'm not kidding)
Rucka Retires...
Why Jim Steranko Deserves all the Awards he Can Get
Are Trade Paperbacks the Future of Comics?
Crisis in the Infinite Continuity
How old is Batman?
Humour in Comics
Why Kids Don't Read Comics?
Superman Who?
Last Updated: Jun 26, 2018 - 9:28