The Incredible Hulk DVD Collection
By Philip Schweier
November 1, 2003 - 08:43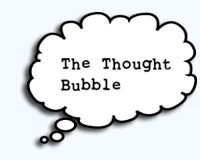 THE INCREDIBLE HULK DVD COLLECTION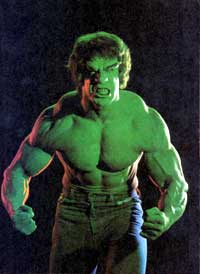 With the summer's Hulk movie coming to video and DVD, what say we revisit the original video version, and the series that followed. Journey with me now as we slip the surly bonds of Earth, traveling thru time and space, to an age of innocent confusion: 1977.
The Incredible Hulk premiered November 4, 1977, as a made-for-tv movie starring veteran television actor Bill Bixby as scientist David Banner, "searching for a way to tap into the hidden strengths all humans have." Bixby was television veteran, having appeared on numerous shows beginning in the late 1950s, and eventually starring in his own series, My Favorite Martian, in 1963. Other starring roles include The Courtship of Eddie's Father, and The Magician, in which he played a stage magician who used his tricks of the trade to solve crimes. According to the Internet Movie Database, Bixby was less than enthused about The Incredible Hulk. "I told my agent, 'You've got to be kidding!', he has once said. "He told me, 'Read it!' and so I took it home and thanks to his intelligence, I did read it."
The role of the title character was difficult to fill. Richard Kiel, mostly known for his roles as Bond villain Jaws in "The Spy Who Loved Me" and "Moonraker" was considered, but the final choice was 2-time Mr. Universe Lou Ferrigno (Arnold Schwarzenegger was also considered, but came in 3 inches shorter than Ferrigno).
At 21, Ferrigno was the youngest recipient of the Mr. Universe title, and the only person to have won it twice. Lou had suffered significant hearing loss due to an ear infection when he was a baby, but that certainly didn't hinder his ambitions. On his website, he states. "If I hadn't lost my hearing, I wouldn't be where I am now. It forced me to maximize my potential. I had to be better than the average person to succeed. That's why I chose bodybuilding. If I became a world champion, if I could win admiration from my peers, I could do anything."
The Hulk was altered from its comic book origins to fit the television format. Dr. David Banner is a research scientist trying to learn the secret behind extraordinary displays of strength by people under stress. The source of this obsession is the car accident which took the life of his wife. Other people in peril had performed amazing feats, why couldn't he? With the help of his supportive colleague Dr. Alaina Marks (played by Susan Sullivan), he learns the occurrences coincide with solar flares heavy with gamma radiation. In a moment of radical experimentation, the scientist uses himself as a guinea pig. Unknown to Banner, a technician had modified the gamma ray machine, and David overdoses himself.
Frustrated by a lack of immediate results, he drives home, only to suffer a flat tire in the pouring rain. Anger gets the best of him, and the destructive force inside manifests itself with Banner's dramatic metamorphosis. Enter tabloid reporter Jack McGee, in search of a story to re-ignite his career. Pestering Banner and interrupting his research only serves to resurrect the green beast and bring about a catastrophic lab explosion. Dr. Marks dies in the aftermath, and it is believed Banner perished as well. Presumed dead, he becomes a drifter "searching for a way to control the raging beast within him."
The Incredible Hulk owes as much to classic literature as to it's comic book roots. Besides the obvious homage to Dr. Jekyll and Mr. Hyde, the show also touched upon Victor Hugo's Les Miserables, the story of a man relentlessly pursued by an overzealous police inspector for what can best be described as a non-crime. Hugo's famous novel would serve to partially inspire a previous TV series, The Fugitive. On that series, Dr. Richard Kimble was relentlessly pursued by Detective Philip Gerrard for a crime he did not commit, each week coming close to capture, but managing to escape before moving on.
A less obvious reference to classic literature was in the form of tabloid reporter Jack McGee. Like Ahab searching for his white whale, Jack Colvin portrayed reporter Jack McGee, hunting for his green monster. Similar to The Fugitive's Detective Gerrard, he originally blamed the Hulk for the deaths of Banner and Marks, and wanted to see the creature held accountable. As the show progressed, he became more opportunistic, in search of the story that would rebuild his fallen career. The Hulk had become a distant cousin to Bigfoot, often spoken of, but never seen except by conspiracy theorists and drunken rednecks.
The film was a respectable hit for CBS, who then launched a television series which followed the formula established by The Fugitive. Banner drifts from place to place, until circumstances force him to change into the Hulk. With a fresh sighting at hand, Jack McGee arrives on the scene, endangering the lie that Banner is dead, and thereby revealing him to be the Hulk. The series was moderately successful for both CBS and Marvel Comics. It led to a number of Marvel characters being optioned for television, though none quite so successfully. After a four-year run, the series was cancelled in 1982.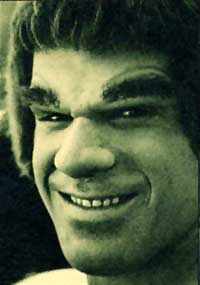 But it wasn't quite over yet. Six years later, another television movie aired, The Incredible Hulk Returns. Years had passed since we last saw David Banner stroll down that lonely highway in search of peace. Apparently he had found it, taking a job at a scientific research firm. On the verge of testing a device which may very well lay the Hulk to rest forever, his experiment is interrupted by a former student, Dr. Don Blake.
Blake tells him of his discovery of an ancient Norse hammer, which can summon the god Thor, played by Eric Kramer. The arrogance of Thor results in Banner changing into the Hulk once more, and together they foil a criminal plot. This movie was intended to not only revive the Incredible Hulk in the form of two-hour movies, but hopefully serve as a launch pad for other Marvel characters.
While Thor never touched a chord with TV audiences, the Hulk returned yetagain, this time aided by teen heartthrob Rex Smith as Daredevil, a blind attorney. In NBC's Trial of the Incredible Hulk, the green goliath joined forces with Daredevil to foil the plots of the sinister Wilson Fisk (i.e., The Kingpin from the Daredevil comic). Greater effort was made in making Daredevil a viable television property, but most noticeable to diehard fans was the costume change. Instead of red, supporting the "devil" idea, the costume is a ninja-like black. It also features a blindfold which covers the eyes. Supposedly, when Marvel complained to the producers, their response was, "What difference does it make? Daredevil's blind anyway." Marvel pointed out, "But nobody's supposed to KNOW that."
By this time, the Incredible Hulk had run out of steam. Bixby, who also directed the telefilm, seemed to not be putting quite his all into his performance as Banner. The "trial" itself is part of a dream sequence, and noteworthy for the first in what would become a long line of cameos by Marvel head Stan Lee. Supporting player Jack McGee was done away with entirely. By the end of the show, it seemed the special effects budget had been shot, and Fisk's getaway smacks of Plan 9 From Outer Space special effects.
Instead of cutting their losses, the producers opted to finally lay the Hulk to rest with a final movie, The Death of the Incredible Hulk. Posing as a mentally challenged janitor, Banner provides clandestine help to a Dr.Pratt, a research scientist whose work in gamma radiation is similar to Banner's. Eventually he reveals himself and his secret to Pratt. Enter the villains, who are after Pratt's research, on the very night Pratt may finally cure Banner. Naturally the Hulk comes out, and Pratt is injured in the ensuing melee. As the story winds down, the terrorists have kidnapped Pratt from his hospital, and Banner boards their small plane in a attempt to rescue him. When the plane explodes in the air, the Hulk falls to his eventual demise, changing back to Banner in time to bid us all farewell.
Following the end of the Incredible Hulk, Bill Bixby turned his attention behind the camera, where he served as director for many television series until his death in 1993, the victim of prostate cancer.
Lou Ferrigno continued to act, starring in a couple of low budget Hercules movies. Ironically, while growing up, Lou was a fan of the 1950s Hercules films that starred body builder Steve Reeves. He starred as the Hulk once again in a 1996 animated series, while continuing to hone his acting ability in stage productions such as Of Mice and Men, but rarely acts today. He spends most of his time working as a personal trainer in Los Angeles, and is often seen at TV memorabilia shows and science fiction and comic book conventions. Most notably, he also is a spokesman for the hearing impaired, giving inspirational presentations to people (often children) with disabilities. But one last moment with the Hulk can be seen in Ang Lee's Hulk movie, where he has a cameo as the head of security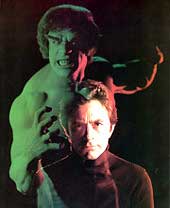 As for Jack Colvin, the Internet Movie Database places him as teaching young actors at California State Northridge University in 2001.
Three DVD collections consisting of five of the feature length episodes of the show were released in conjunction with the feaure film last May. These included "The Incredible Hulk Collection" from Anchor Bay, featuring two Hulk movies which guest star Daredevil and Thor, "The Death of the Incredible Hulk" from Fox and "The Incredible Hulk: Series Premiere" from Universal, which contains the feature-length pilot episode and the feature-length "Married" episode.
Universal plans to extend the DVD library of the show with "The Incredible Hulk: The Television Series Ultimate Collection." Released October 21st, "Ultimate Collection" will be a six disc set collecting 12-18 episodes of the old series, with a reported retail price of about $70.
Praise and adulation? Scorn and ridicule? Email me at philip@comicbookbin.com.
PAST COLUMNS
Will Lightning Strike Twice?
Euro Comics
State of the Market
This is your captain?
The Incredible Hulk DVD Collection
DC vs. Marvel
Death, Take a Holiday!
Looking In on The Outsiders
News Bytes From The DC Universe
A Whole lot of Chaykin Goin' On
Superman/Thundercats (no, I'm not kidding)
Rucka Retires...
Why Jim Steranko Deserves all the Awards he Can Get
Are Trade Paperbacks the Future of Comics?
Crisis in the Infinite Continuity
How old is Batman?
Humour in Comics
Why Kids Don't Read Comics?
Superman Who?
Last Updated: September 6, 2021 - 08:15