Black Lagoon: Volume 10 manga review
By Leroy Douresseaux
April 27, 2015 - 21:26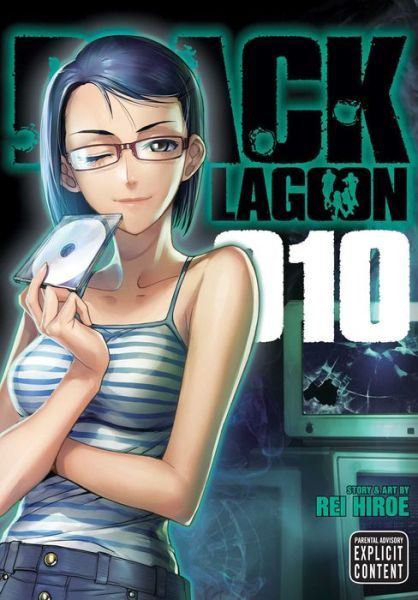 Black Lagoon Volume 10 cover image is courtesy of barnesandnoble.com.
Follow me on
Twitter
.
Rated "M" for "Mature"
The baddest mercenaries on the high seas of Southeast Asia sail aboard the "
Black Lagoon
," a modified, World War II torpedo boat. Prowling the waters off the coast of Southeast Asia is a small crew of four. There is Vietnam vet,
Dutch the Boss
, and
Benny the Mechanic
, who handles the boat's complicated high tech electronics.
Revy Two Hand
is the ultra-lethal, gunslinger, and
Rock
, the corporate crony formerly known as Rokuro Okajima, just ended up part of the crew. Through Dutch's company,
Lagoon Traders
, this quartet operates a maritime courier service out of
Roanapur, Thailand
, a dangerous city rotten with military, ex-military, gangsters, drug dealers, etc.
Black Lagoon

, Vol. 10
has a singular focus on Chapter 77: The Wired Red Wild Card. Benny's lascivious girlfriend,
Jane
, arrives in town with naughty plans to make love to Benny... and sometimes to rape him. The tech-savvy Jane, who leads an international counterfeiting group, however, has even darker plans for her latest recruit,
Feng Yifei
, a Chinese spy.
The plan is for Feng to hack into
Reinbach A.G.
, a German electronics manufacturer, in order to steal the avionics data the company is developing. Jane's real motive is to blackmail the Chinese government, an act which leaves, Feng, who is enlisted in the Chinese military, as the scapegoat. Now, the
People's Liberation Army
(PLA) has hired men to kill Feng. Some of the crew of the Black Lagoon are sympathetic, but they would rather not bring Feng's trouble on themselves. What will she do?
THE LOWDOWN:
I think the last time the
Black Lagoon
manga was published in North America was in 2010, when VIZ Media published Vol. 9. In an afterword published in
Black Lagoon Volume 10
, series creator,
Rei Hiroe
, seems determined to make his readers understand two things. He has been working on the series during the five years between Vols. 9 and 10, and he was not on hiatus, no matter how many people say he was.
He doesn't need to explain anything to me, at least. I did miss
Black Lagoon
and often wondered what happened to the series. I love it. It's the comic book that
The Punisher
should be like, although DC Comic's recently launched
Deathstroke
series (2014) reminds me of
Black Lagoon
. While Vol. 9 was a shoot 'em up fest, Vol. 10 is short on the kind of explosive gun battles that have come to define this series, although there are a few ballets of bullets.
In this chapter, Hiroe takes a deeper look at the personalities and philosophies of Revy and Rock, particularly from the standpoint of how each views getting involved in other people's affairs. I think this is a way of encouraging the readers to be invested in the crew of the
Black Lagoon
, and it worked on me. I suddenly find myself drawn to Revy as an intriguing mystery girl and not simply as a cool bitch with two smoking guns.
POSSIBLE AUDIENCE:
Readers who want a supreme gunfight-manga will want the VIZ Signature title,
Black Lagoon
.
Last Updated: August 31, 2023 - 08:12