Black Lagoon: Volume 6
By Leroy Douresseaux
June 8, 2009 - 11:26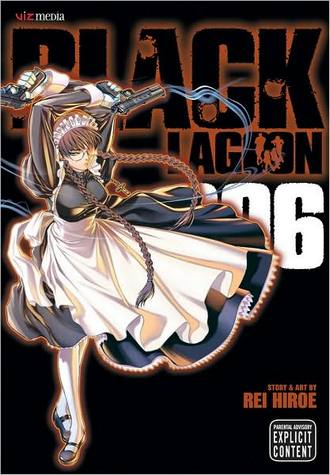 Black Lagoon Volume 6 cover image is courtesy of barnesandnoble.com.
Rated "M" for "Mature"
The Black Lagoon is a modified, 80-foot, Elco PT boat (a World War II torpedo boat), and its crew is a small group of mercenaries that operates on the waters off the coast of Southeast Asia. Dutch the Boss, a Vietnam veteran, is the boss. Benny the Mechanic handles the boat's complicated high tech. Revy Two Hand is the ultra-lethal, almost-super-powered gunslinger. Once known as Rokuro Okajima, Rock is the former corporate crony who ended up part of the crew. Through Dutch's company, Lagoon Traders, the crew operates a maritime courier service out of Roanapur, Thailand, but the big money comes from their side jobs – piracy.
Two new storylines begin in Black Lagoon, Vol. 6. First, in the six-part "Greenback Jane," Janet "Jane" Bai, the boss of a highly-sophisticated, counterfeit money operation, finds herself on the run from some Florida-based gangsters, who aren't happy with the product she delivered. Luckily, Jane manages to escape from them and find safe haven in Roanapur's Church of Violence AKA the Rip-Off Church, where the gun-toting, hard-drinking Sister Eda and Revy offer her assistance. Oh, make that unlucky; Eda and Revy's asking price might be worse than the violence Jane faces at the hands of her pursuers.
Next, the opening chapters of "El Baile de la Muerte" find Roanapur all twitter with rumors. It seems that Roberta, the Lovelace Head Matron, "the Bloodhound of Florencia," AKA the "Killer Maid" is back. That's bad news for everyone… maybe even the crew of the Black Lagoon.
THE LOWDOWN: With its rip-roaring action, Black Lagoon, Vol. 6 is the summer's best action movie – pick a summer, any summer. This delightfully violent manga is a welcomed addition to any guy's reading list. This is what Marvel Comics' The Punisher wishes it could be. Creator Rei Hiroe makes use of what seems like every panel design and perspective or angle necessary to create an action graphic narrative, and a great one, at that.
POSSIBLE AUDIENCE: Readers looking for a great shoot 'em up comic book must have Black Lagoon.
A-
Last Updated: September 6, 2021 - 08:15