Black Lagoon: Volume 9
By Leroy Douresseaux
July 15, 2010 - 14:30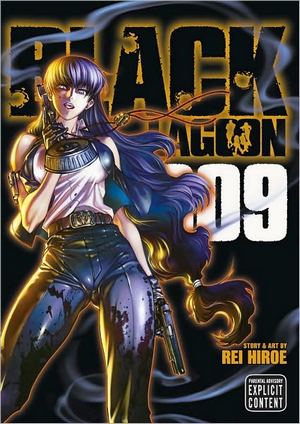 Black Lagoon Volume 9 cover image is courtesy of barnesandnoble.com.
Rated "M" for "Mature"
The Black Lagoon is a modified, World War II torpedo boat. With its small crew of mercenaries, the boat prowls the waters off the coast of Southeast Asia. There is Vietnam vet Dutch the Boss, and Benny the Mechanic who handles the boat's complicated high tech electronics. Revy Two Hand is the ultra-lethal, gunslinger, and Rock, the corporate crony formerly known as Rokuro Okajima, just ended up part of the crew. Through Dutch's company, Lagoon Traders, this quartet operates a maritime courier service out of Roanapur, Thailand, a dangerous city rotten with ex-Soviet military, Chinese triads, Columbian drug dealers, and even American Special Forces.
In Black Lagoon, Vol. 9, the "El Baile de la Muerte" storyline comes to an unconventional end. Roberta, the head matron of the Lovelace family, one of South America's 13 great families, finally squares off with the U.S. unconventional Special Forces unit known as "Grey Fox." The unit assassinated her boss, Diego Lovelace. Now, Diego's preteen son, Garcia, is determined to stop this "dance of death." And the mastermind of this crazy endgame is none other than Rock.
THE LOWDOWN: Yeah, some of us have really missed Black Lagoon since the previous volume was published last year. While Vol. 9 is ripe with the kind of shoot 'em up violence that creator Rei Hiroe does so well, characterization takes center stage. Delving into the characters and giving them interesting histories, traits, and action is the only way Hiroe could get away with the manner in which he concludes "El Baile de la Muerte." It's a surprisingly bittersweet and poignant end in a manga that emphasizes bullets and carnage.
POSSIBLE AUDIENCE: Readers who want a supreme gunfight-manga will want Black Lagoon.
B+
Last Updated: January 24, 2022 - 11:00