Black Lagoon: Volume 5
By Leroy Douresseaux
April 8, 2009 - 12:37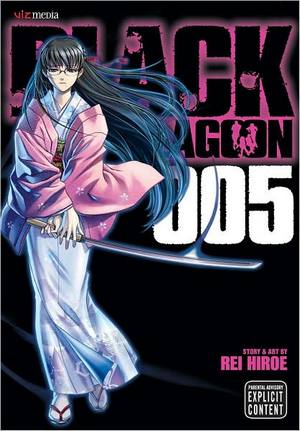 Black Lagoon Volume 5 cover is courtesy of barnesandnoble.com.
Rated "M" for "Mature"
There is a modified, 80-foot, Elco PT boat (a World War II torpedo boat) that prowls the waters off the coast of Southeast Asia. Its crew is a small group of mercenaries. Dutch the Boss, a Vietnam veteran, is the boss. Benny the Mechanic handles the boat's complicated high tech. Revy Two Hand is the ultra-lethal, almost-super-powered gunslinger. Once known as Rokuro Okajima, Rock is the former corporate crony who ended up part of the crew. Through Dutch's company, Lagoon Traders, the crew operates a maritime courier service, but the big money comes from their side jobs – a little piracy on the side. This is the saga of the boat known as the "Black Lagoon."
The entirety of Black Lagoon, Vol. 5 is devoted to the end of the "Fujiyama Gangsta Paradise" storyline. Rock initiates his desperate gambit to spare the life of Yukio Washimine in the bloody conflict between the Washimine-gumi and Hotel Moscow. He and Revy form an uneasy alliance with Yukio's bodyguard and the Washimine-gumi's top enforcer, the incredible swordsman, Ginji Matsuzaki. The trio launches a rescue operation to free Yukio from the clutches of Chaka, a low-level Washimine thug. In spite of Rock's efforts, things still look bleak.
THE LOWDOWN: I can't get enough. What a delightfully violent comic book. This is what Marvel Comics' The Punisher could be if a talented writer/artist or manga-ka were allowed to go… balls to the wall with that character. The "bullet time" of The Matrix has nothing on Black Lagoon. Creator Rei Hiroe makes each action panel a symphony of speed lines, twisted human anatomy, and detail that even has the letters for the sound effects splattered across the panel. This is violent adventure the way I like it.
POSSIBLE AUDIENCE: Readers who want hardcore action will find it in Black Lagoon.
A-
Last Updated: September 6, 2021 - 08:15