Black Lagoon: Volume 2
By Leroy Douresseaux
October 10, 2008 - 15:32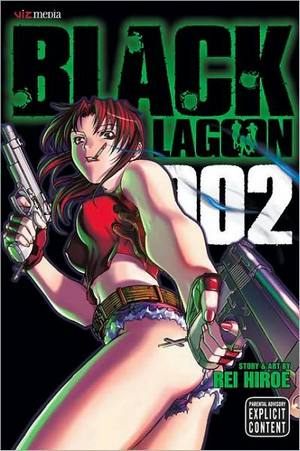 Thanks to barnesandnoble.com for the above cover image.
Rated "M" for "Mature"
In the waters off the coast of Southeast Asia, the Black Lagoon, a modified, 80-foot, Elco PT boat (a World War II torpedo boat), and its crew of mercenaries prowl. Dutch the Boss, Benny the Mechanic, Revy Two Hand, and Rock, the former corporate crony, operate a maritime courier service, but the big money comes when they engage in a little piracy on the side.
In Black Lagoon, Vol. 2, the crew is in the middle of an illegal salvage job, when they discover that a gang of neo-Nazis are after the same prize aboard a sunken World War II German sub, but the Nazi goons are about to catch Revy in the middle of her really, really, really pissy mood. Later, a pair of psychotic assassins has all of Roanapur in an uproar when they start killing members of the various criminal gangs.
THE LOWDOWN: If the fans of Marvel Comics' The Punisher decided to read a manga, it would be Black Lagoon. If John Woo wrote a violent, action comic book, it would be very much like Black Lagoon. Shell casings and bodies hit the floor like no other comic book available in America since Frank Miller and Geof Darrow's Hard Boiled.
POSSIBLE AUDIENCE: This seinen manga – comics for adult men – is perfect for the hardcore action fan who might read a comic book.
A-
Last Updated: September 6, 2021 - 08:15