Biomega: Volume 2
By Leroy Douresseaux
May 10, 2010 - 10:26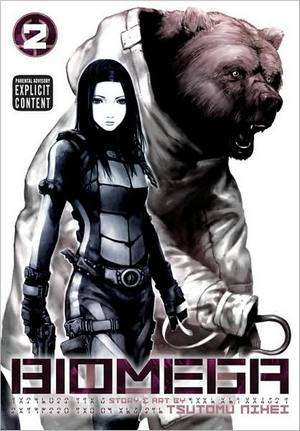 Biomega Volume 2 cover image is courtesy of barnesandnoble.com.
Rated "M" for "Mature"
In the distant future, humanity struggles with a deadly virus that sweeps across the globe. N5S turns infected humans into zombie-like drones. Riding a heavy dual coil motorcycle, Zoichi Kanoe, a synthetic human, may be humanity's last hope. Assisted by Fuyu Kanoe, a digitized intelligence built into the computer system of his motorbike, Zoichi journeys across a dark world in search of the key to salvation, while battling mind-bending evil.
In Biomega, Vol. 2, Zoichi continues his quest to find Eon Green, a girl with the power to transmute the N5S virus. Zoichi wasn't the only one looking for Eon, and she was eventually captured by forces belonging to the DRF. Meanwhile, another TOA employee, Agent Nishu Mizunoe, searches for Zoichi's former companion, the talking bear, Kozlov L. Gebnev. Separately, Zoichi and Mizunoe discover the same startling information – the DRF's apocalyptic plan for the entire human race.
THE LOWDOWN: One of the most visually stunning and dynamic, post-apocalyptic science fiction comic books in recent memory, Biomega takes readers on a journey across fantastic landscapes at a breakneck pace. It's amazing how creator Tsutomu Nihei (BLAME! and Wolverine: Snikt!) is able to depict the burned husks of ruined cities in so many different ways. He also has an imagination which produces an ever-growing menagerie of peculiar heroes, villains, and monsters. The art styling may remind many readers of Akira, and Biomega is certainly trying to be as good as Akira.
POSSIBLE AUDIENCE: A seinen manga (comics for adult men), Biomega will appeal to readers looking for gritty science fiction comics.
A
Last Updated: August 31, 2023 - 08:12