Biomega: Volume 3
By Leroy Douresseaux
August 8, 2010 - 16:12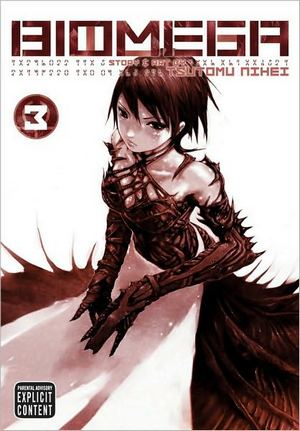 Biomega Volume 3 cover image is courtesy of barnesandnoble.com.
Rated "M" for "Mature"
In the distant future, the deadly virus, N5SV, sweeps across the globe, turning infected humans into zombie-like drones. The synthetic human, Zoichi Kanoe, an agent of TOA Heavy Industry, may be humanity's last hope. Across nightmarish landscapes, he rides a heavy dual coil motorcycle that has its own built-in digitized intelligence (known as Fuyu Kanoe). Zoichi journeys across a dark world, searching for the key to salvation and battling mind-bending evil.
Biomega, Vol. 3 continues as the Data Research Foundation's plan to transform humanity and the earth itself reaches a fever pitch. The DRF has located another executor of the Apocalypse, General Narein Megunado. In a search for more information, Nishu Mizunoe, another TOA agent, has discovered something even more dangerous than N5SV. Meanwhile, Zoichi continues his journey to Maximum Security Containment Facility 3 to rescue Eon Green, a young woman with the ability to transmute the virus.
THE LOWDOWN: Manga-ka (creator) Tsutomu Nihei (Wolverine: Snikt!) has fashioned in Biomega one of the most invigorating reads in recent years. It can get a little crazy at times, with new adversaries always materializing, but the cool killer machines that also pop up make you forget how confusing this series can sometimes be. Biomega is Mad Max meets Akira, and your mind will never be the same after reading it.
POSSIBLE AUDIENCE: A seinen manga (comics for adult men), Biomega will appeal to readers looking for gritty science fiction comics.
A
Last Updated: August 31, 2023 - 08:12