Biomega: Volume 4
By Leroy Douresseaux
November 8, 2010 - 09:41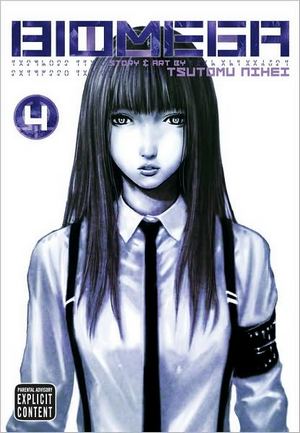 Biomega Volume 4 cover image is courtesy of barnesandnoble.com.
Rated "M" for "Mature"
In a distant, nightmarish future, the deadly virus known as N5SV sweeps across the globe, turning infected humans into zombie-like drones. Zoichi Kanoe, a synthetic human, is an agent of TOA Heavy Industry, and he may be humanity's last hope. Across horrendous landscapes, Zoichi rides a heavy dual coil motorcycle that has its own built-in digitized intelligence (female and named Fuyu Kanoe). Zoichi journeys across this dark world, searching for the key to salvation while battling mind-bending evil.
In Biomega, Vol. 4, Niarudi, matriarch of the DRF (Data Research Foundation), unleashes her plot to radically transform the Earth, using the Reverse Morphic Polymer. Meanwhile, Fuyu discovers the origins and secrets of N5SV and Niarudi. It all began on Mars 700 years ago.
THE LOWDOWN: Creator Tsutomu Nihei (Wolverine: Snikt!) has fashioned in Biomega a science fiction and horror manga that continues to be an invigorating read. When it comes to mind-bending, Biomega makes Inception seem as plain as "The Young and the Restless." This is like Mad Max meets Akira, as envisioned by H.R. Giger. Your mind is probably hungry for this visually potent and pungent comic book.
POSSIBLE AUDIENCE: A seinen manga (comics for adult men), Biomega will appeal to readers looking for gritty, but imaginative science fiction comics.
A
Last Updated: August 31, 2023 - 08:12