Biomega: Volume 1
By Leroy Douresseaux
January 29, 2010 - 12:47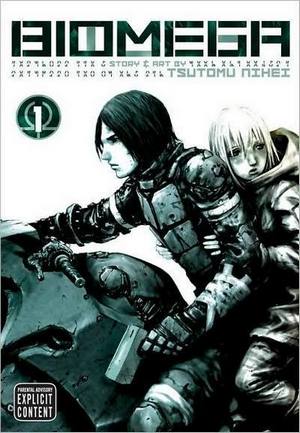 Biomega Volume 1 cover image is courtesy of barnesandnoble.com.
Rated "M" for "Mature"
As Earth enters the 31st century, humanity struggles with a deadly virus that continues to sweep across the globe. N5S turns infected humans into zombie-like drones. Riding a heavy dual coil motorcycle, Zoichi Kanoe, a synthetic human, may be humanity's last hope. Assisted by Fuyu Kanoe, a digitized intelligence built into the computer system of his motorcycle, Zoichi journeys across a dark world in search of the key to salvation.
In Biomega, Vol. 1, Zuichi's bosses, TOA Heavy Industry, send him on a mission to find Eon Green, a girl with the power to transmute the N5S virus, but he isn't the only one looking for her. The Public Health Service's Compulsory Execution Unit is also pursing Eon. Zoichi traces Eon to 9JO, an island in the middle of the Pacific Ocean, where he finds a conspiracy that could both change and destroy the world.
THE LOWDOWN: Readers familiar with Tsutomu Nihei's other manga (BLAME! and its prequel NOiSE) will find Biomega quite familiar. Readers who love Nihei (like this reviewer) will be ecstatic about Biomega. It's a thrilling read, although much of it involves "reading" wordless panels filled with all kinds of bracing, invigorating action. Biomega may conjure up feelings one gets from watching exciting anime and action flicks. The story is familiar – the long wolf riding across a barren landscape – looking for something or someone. Visually, Biomega is dynamite. This is Akira meets Hieronymus Bosch.
POSSIBLE AUDIENCE: A seinen manga for adult men, Biomega will appeal to readers of Nihei's manga and other works that present a nightmare vision of the future.
A
Last Updated: August 31, 2023 - 08:12