Assassination Classroom: Volume 7 manga review
By Leroy Douresseaux
December 6, 2015 - 19:53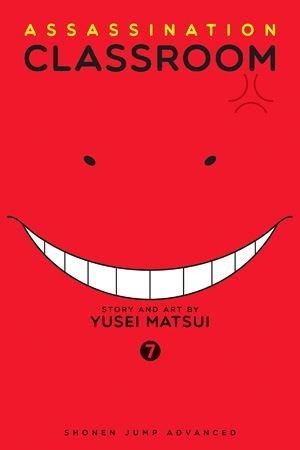 Assassination Classroom Volume 7 cover image
Rated "T+" for "Older Teen"
An entire class of students want to kill the teacher. That's a good thing, actually. Why is such anti-social behavior a good thing?
Class 3-E
, the outcast students of
Kunugigaoka Junior High
, have the perfect excuse. An alien octopus destroyed 70% of the moon and then, traveled to Earth. Now, this alien is Class 3-E's teacher, and they name "
Koro Sensei
." He promises to destroy the Earth after 3-E students graduate, so it is up to these students to kill their teacher in order to save the world. They are the "Assassination Classroom."
Assassination Classroom

, Vol. 7
(Chapters 44 to 52; entitled
On Island Time
) opens during final exams. Because of the rivalry between Class A and Class 3-E, these exams are competitive, and the winning class gets some nice prizes, but the loser will lose a lot.
Also, it is "Assassination Day." The students of Class 3-E are going to use their summer break to train for and to launch their most detailed and advanced assassination plot against Koro Sensei. The site of this fun, sun, and death is
Fukuma Island
, a resort island also known as Pandemonium Island, and lots of things are not what they seem.
THE LOWDOWN:
The
Assassination Classroom
manga is a solid entry in VIZ Media's "Shonen Jump Advanced" line-up. This series is both a sci-fi comedy and a high school comedy slash workplace drama, with the high school being the workplace because the students are doing the work of trying to kill their teacher. As I said, this series is solid, but there are some standout volumes.
Assassination Classroom Volume 7
is a standout entry in this graphic novel series. The rivalry between Class A and E yields some good comedy and some surprisingly clever commentary on high school politics and on social class. Still, I think the series hits one of its peak moments with the resort island assassination plot. The story arc shows how much the misfits of 3-E have grown in terms of their school performance and also in terms of their confidence.
Assassination Classroom
may turn out to be a great underdog tale.
POSSIBLE AUDIENCE:
Fans of manga comedies about aliens and humans coming together will want to enroll in the Shonen Jump Advanced title,
Assassination Classroom
.
Last Updated: August 31, 2023 - 08:12