Assassination Classroom: Volume 16 manga review
By Leroy Douresseaux
July 5, 2017 - 06:16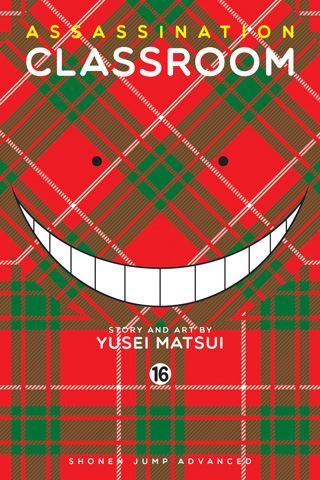 Assassination Classroom Volume 16 cover image
Rated "T+" for "Older Teen"
The students of Class 3-E are outcasts at Kunugigaoka Junior High. They are also trying to kill their teacher, and they have the perfect excuse. Their teacher is the alien octopus that recently destroyed 70% of the moon. This alien traveled to Earth, where he became the teacher the students named "Koro Sensei." He promises to destroy the Earth after 3-E students graduate. Thus, it is up to these students to kill their teacher in order to save the world. They are the "Assassination Classroom."
As
Assassination Classroom

, Vol. 16
(Chapters 134 to 142; entitled
Time for the Past
) opens, Koro-Sensei tells the true story of his origin. The Grim Reaper. A secret scientific organization. Chief scientist Kotaro Yanagisawa. A moonlighting teacher, Aguri Yukimaru. When the story is over, Class 3-E will never be the same!
THE LOWDOWN:
The central struggle of the Assassination Classroom manga is always the same – kill the teacher. Creator Yusei Matsui simply insists on surprising readers in the different ways in which he depicts that struggle.
Assassination Classroom Volume 16
is truly an offbeat volume. Welcome to the shocking origin of the alien teacher. It's poignant, crazy, heart-rending, and weird. Yet this changes the pace and heartbeat of the narrative. It is a fresh take on a series that already surprises on a regular basis.
I READS YOU RECOMMENDS:
Fans of inventive humor will want to be a student in Shonen Jump Advanced 's
Assassination Classroom
.
A
9.5 out of 10

Rating: 9.5 /10
Last Updated: January 24, 2022 - 11:00