Assassination Classroom: Volume 14 manga review
By Leroy Douresseaux
March 9, 2017 - 21:52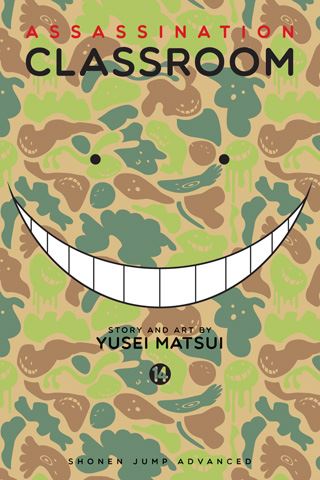 Assassination Classroom Volume 14 cover image
Rated "T+" for "Older Teen"

The students of
Class 3-E
at
Kunugigaoka Junior High
are outcasts, and they are trying to kill their teacher. They have the perfect excuse, however, because their teacher is the alien octopus that recently destroyed 70% of the moon. This alien traveled to Earth, where he became the teacher the students named "
Koro Sensei
." He promises to destroy the Earth after 3-E students graduate. Thus, it is up to these students to kill their teacher in order to save the world. They are the "
Assassination Classroom
."
Assassination Classroom

, Vol. 14
(Chapters 116 to 124; entitled
Time for a Teacher's Exam
) opens as the
11th Kunugigaoka School Festival
begins. Lowly Class E and elite
Class A
are going to compete for customers via their food booths. Class E's menu will include tasty treats made from ingredients from their immediate environment. Will customers, however, be willing to walk up a mountain for "acorn dipping noddles" when they can get food and music from Class A?
Then, it is time for the semester's final exams, which leads to more competition between Class E and Class A. However, someone of power in Class A is removed and replaced by someone with even more power. And that newcomer will do anything to anyone in order to beat Class E!
THE LOWDOWN:
I practically always write in my reviews of the
Assassination Classroom
manga that it rarely fails to entertain. That is still true, and I remain impressed by creator
Yusei Matsui
's inventive series, and I like for good reading to impress me.
Assassination Classroom Volume 14
focuses on competition in the classroom in ways that are both novel and mind-blowing. Matsui visualizes the students' struggles against an ultra-tough final exam by depicting it as a series of battles against mazes and monsters. Well, I did say that Matsui was inventive, and that is to say nothing about the food booths.
I READS YOU RECOMMENDS:
Fans of inventive humor will want to be a student in Shonen Jump Advanced 's
Assassination Classroom
.
A
Rating: A /10
Last Updated: January 24, 2022 - 11:00