Assassination Classroom: Volume 19 manga review
By Leroy Douresseaux
March 25, 2018 - 15:04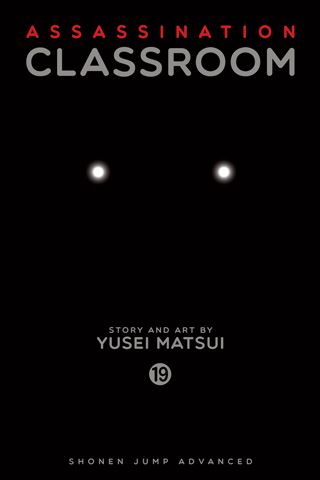 Assassination Classroom Graphic Novel Volume 19 cover image
Rated "T+" for "Older Teen"
The outcasts students of
Class 3-E
at
Kunugigaoka Junior High
are trying to kill their teacher. They have the perfect excuse. Their teacher is the alien-like octopus that recently destroyed 70% of the moon. This creature traveled to Earth, where he became Class 3-E's teacher, "
Koro Sensei
," and he promises to destroy the Earth after the 3-E students graduate. Thus, it is up to these students to kill their teacher in order to save the world. They are the "Assassination Classroom."
As
Assassination Classroom

, Vol. 19
(Chapters 161 to 169; entitled
Time to Go to School
) opens, the students of Class 3-E encounter a strange and dangerous group of men. Ultimately,
Karma Akabane
uses his brains instead of his brawn to save a classmate from these men. Meanwhile, the last of the students waiting to hear from prospective high schools finally get acceptance letters, and Koro Sensei realizes that he is running out of time to enjoy his students. So the octopus teacher suddenly starts obsessing about a year book.
Meanwhile, the governments of the world decide to put an end to "the monster" Koro Sensei. Enter ultimate mercenary,
Craig Hojo
.
THE LOWDOWN:
The Assassination Classroom manga sprints to its final volumes. Same as it ever was; the story is still about killing the teacher.
Assassination Classroom Graphic Novel 19
shows the gradual shift in the primary plot, if not the series' central conceit. Creator Yusei Matsui has made his group of rejects, the so-called "End Class," a group of formidable opponents, but they are also a diverse group. Each one is interesting and engaging, and while there has been a shift in who wants to kill teach, Assassination Classroom remains a fun series. And the characters may be better than ever.
I READS YOU RECOMMENDS:
Fans of science fiction humor comics will want to be a student in Shonen Jump Advanced 's
Assassination Classroom
.
A
8.5 out of 10
Rating: 8.5 /10
Last Updated: January 24, 2022 - 11:00