Assassination Classroom: Volume 18 manga review
By Leroy Douresseaux
March 16, 2018 - 23:08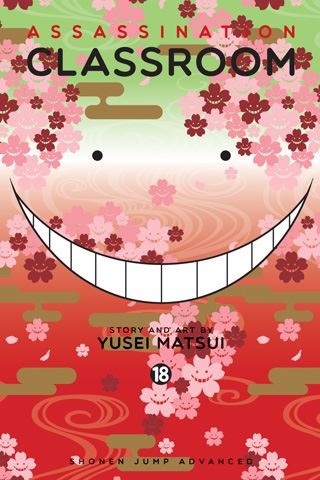 Assassination Classroom Volume 18 cover image
Rated "T+" for "Older Teen"
They are outcasts, these students of
Class 3-E
at
Kunugigaoka Junior High
, and they are also trying to kill their teacher. They have the perfect excuse. Their teacher is the alien-like octopus that recently destroyed 70% of the moon. This creature traveled to Earth, where he became Class 3-E's teacher, "
Koro Sensei
." He promises to destroy the Earth after the 3-E students graduate. Thus, it is up to these students to kill their teacher in order to save the world. They are the "
Assassination Classroom
."
As
Assassination Classroom

, Vol. 18
(Chapters 152 to 160; entitled
Time for Valentine's Day
) opens,
Shiota Nagisa
and
Karma Akabane
of Class 3-E complete their mission to the
International Space Station
to discover more information about Koro Sensei's physiology. Next, it is time to think about the future! The students of Class 3-E must begin high school entrance exams. Then, it is time for
Valentine's Day
, and in Japan, the girls give the boys chocolate. For some gals and guys, especially when it comes to young assassins, even giving chocolate is complicated.
THE LOWDOWN:
We are down to the last 40 or so chapters of the Assassination Classroom manga. Same as it ever was, and it is always the same – kill the teacher. Still, creator Yusei Matsui is always up for a surprise or two, including telling us that the octopus teacher may not be as dangerous as everyone first thought.
Assassination Classroom Graphic Novel 18
introduces secretive forces from outside the school targeting everyone's favorite teacher. It is a way to make a likable monster character even more sympathetic. However, I like Matsui's narrative tributaries off the main story.
There is good reading in the pitfalls of students trying to get into their high schools of choice, especially the elite schools. I was surprised that I also found such delight in Vol. 18's final three chapters, which focus on Valentine's Day. This is not the first time I have read manga depicting the Japanese take on Valentine's Day, but Assassination Classroom... kills it by doing its own unique spin on gifting chocolate.
I READS YOU RECOMMENDS:
Fans of science fiction humor comics will want to be a student in Shonen Jump Advanced 's
Assassination Classroom
.
A
8 out of 10
Rating: 8 /10
Last Updated: January 24, 2022 - 11:00