Assassination Classroom: Volume 15 manga review
By Leroy Douresseaux
April 9, 2017 - 13:03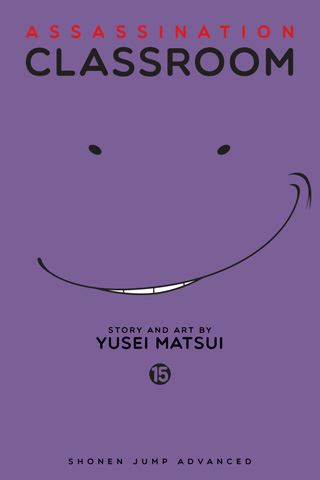 Assassination Classroom Volume 15 cover image
Rated "T+" for "Older Teen"
At
Kunugigaoka Junior High
, the students of
Class 3-E
are outcasts. They are also trying to kill their teacher, and they have the perfect excuse. Their teacher is the alien octopus that recently destroyed 70% of the moon. This alien traveled to Earth, where he became the teacher the students named "
Koro Sensei
." He promises to destroy the Earth after 3-E students graduate. Thus, it is up to these students to kill their teacher in order to save the world. They are the "
Assassination Classroom
."
As
Assassination Classroom

, Vol. 15
(Chapters 125 to 133; entitled Time for a Storm) opens, Kunugigaoka
Principal Gakuho Asano
resolves his dispute with Koro-Sensei and Class 3-E – for the time being. Now, learn the story behind Principal Asano's brutal pedagogical methods.
Next, it is time for the school play, and Class 3-E needs to put on a lunch theater that will make their disinterested fellow students watch. Also, a student is revealed as a master assassin.
THE LOWDOWN:
Like fine "Shonen Jump Advanced" wine, the
Assassination Classroom
always offers an aromatic manga bouquet. Pour another glass!
Assassination Classroom Volume 15
presents another elaborate assassination sequence, while creator
Yusei Matsui
tells this story of violence with a after-dinner mint of redemption. The lunch theater bit is mostly throwaway, but the revelation of a hidden assassin is the real vintage here. It also leads to a helluva to-be-continued – the true story of Koro-Sensei. What can I say:
Assassination Classroom
is still paying off for longtime readers.
I READS YOU RECOMMENDS:
Fans of inventive humor will want to be a student in Shonen Jump Advanced 's
Assassination Classroom
.
A-
Rating: A- /10
Last Updated: January 24, 2022 - 11:00