Assassination Classroom: Volume 4 manga review
By Leroy Douresseaux
May 26, 2015 - 18:35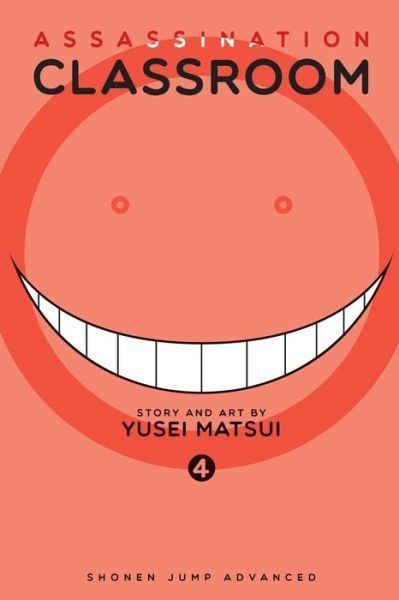 Assassination Classroom Volume 4 cover image is courtesy of barnesandnoble.com.
Follow me on
Twitter
.
Rated "T+" for "Older Teen"
A student who wants to kill his teacher may be anti-social. An entire class of students who want to kill their teacher is mind-blowing.
Class 3-E
, the outcast students of
Kunugigaoka Junior High
, have the perfect excuse for such antisocial behavior. An alien octopus destroyed 70% of the moon and then, traveled to Earth. Now, this alien is Class 3-E's teacher, whom they name "
Koro Sensei
." He promises to destroy the Earth after they graduate, so it's up to these students to kill their teacher in order to save the world. They are the "
Assassination Classroom
."
As
Assassination Classroom

, Vol. 4
(Chapters 17 to 25; entitled
Time to Face the Unbelievable
) opens, the mentor who taught English teacher,
Irina Jelavich
, the art of assassination, arrives at Kunugigaoka. He wants to challenge his protege's skills, promising that he can kill a target in a mock assassination before she does. The target is school P.E. Teacher,
Tadaomi Karasuma
, who is also the member of the Ministry of Defense that trains Class 3-E to kill. Koro Sensei, however, can't allow Irina or her mentor to lose, lest he also lose.
Plus, get ready for the latest arrival in 3-E, who also happens to be an assassin. It's a certified weirdo,
Itona Horibe
, and he has a shocking connection to his target, Koro Sensei.
THE LOWDOWN:
The
Assassination Classroom
manga is a solid entry in the "Shonen Jump Advanced" line-up. I had my suspicions about this series. I did not think that it would get stronger with each volume.
Assassination Classroom Volume 4
offers more clues about the origins of the "alien octopus," Koro Sensei. Creator Yusei Matsui even brings back the rest of Kunugigaoka Junior High, a group of students that insists that they are better than Class 3-E – way better. Pitting 3-E against the rest of the student body is a good way to make the misfits even more likable. I think it makes this series even more likable, and after four volumes, I am shocked to find myself laughing even more.
POSSIBLE AUDIENCE:
Fans of manga comedies about aliens and humans coming together will want to enroll in the Shonen Jump Advanced title,
Assassination Classroom
.
Last Updated: August 31, 2023 - 08:12