Akira: Volume 1
By Leroy Douresseaux
December 16, 2009 - 20:34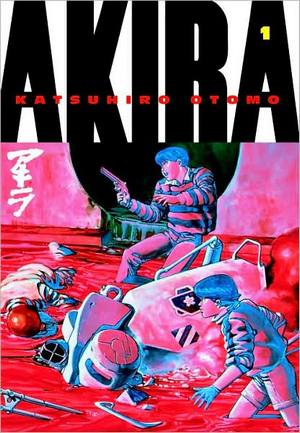 Akira Volume 1 cover image is courtesy of barnesandnoble.com.
Rating "OT Ages 16+"
First published in Japan in Young Magazine (December 1982 to June 1990), the manga Akira, created by Katsuhiro Otomo, is not unfamiliar to American audiences. Many are probably familiar with the animated film adaptation of Akira, co-written and directed by Otomo. After a short theatrical release beginning in 1988, the Akira anime has been available on VHS, DVD, and later Blu-ray.
Marvel Comics, under its Epic Comics imprint, first published the Akira manga in English as a 38-issue, full-color comic book series, and later reprinted those issues in 10 trade paperbacks and also in six hardback volumes. Dark Horse Comics would later publish a new translation of Akira in six volumes (2000-2002), similar to the Japanese six-volume tankoubon (book collection of manga) series.
Kodansha Comics, the American subsidiary of Japanese publisher, Kodansha, the original Japanese publisher of Akira, is bringing the series back to North American readers. Akira, Vol. 1 once again welcomes readers to Neo-Tokyo, the new city built upon the ashes of Tokyo, which was destroyed by the massive blast that would start World War III.
It is 38 years after the blast (2030 A.D.), and the lives of two juvenile delinquents, friends Shotaro Kaneda and Tetsuo Shima, are about to change forever when paranormal abilities begin to awaken in Tetsuo following a motorcycle accident. After a shadowy agency snatches Tetsuo, Kaneda is plunged into a shadowy world of terrorists and soldiers, and the young leader of a motorcycle gang is forced to go on the run from the law. Kaneda meets a young terrorist resistance fighter named Kei, and he becomes the target of The Colonel, the head of a secret organization conducting research on psychic test subjects. Kaneda's fiercest battle may be his face off with Tetsuo and his monstrous new powers.
Akira was not only one of the most important manga of the 1980s; it was also one of the most surprising comic books of that decade. Although American readers had already been exposed to visionary science fiction comics in the form of Howard Chaykin's American Flagg!, Akira was something so much larger, both in terms of the story and visuals. Akira was a lengthy serial narrative, and the structure of the storyline not only supported a large cast of characters and numerous sub-plots (which American Flagg! had), but also extended action sequences.
Katsuhiro Otomo was able to take battle, chase, and fight scenes and extend them over several pages and even shift the scenes in which they take place from one setting or environment to another. For instance, there is a chase of Kaneda by The Colonel's forces that begins on an above ground staging area and moves into a series of tunnels; then a cavernous area, before going back above ground. This all takes place over nearly 30 pages. Although manga is told through a series of connected static (or still) images, Akira's decompressed, graphical storytelling mimics the sense of movement of film or animation. Readers may also experience the heightened sense of emotions and excited feelings that film can evoke.
Akira's art also suggests the intense emotions, sensations, and passions of the characters. These can pass onto the reader, which makes reading Akira feel like a wild ride – the kind of ride advertisements for action movies promise audiences. Welcome back, Akira.
A+
Last Updated: January 24, 2022 - 11:00