Comics / Manga / Yaoi Manga
Akira Kanbe & Minori Shima's Hot Limit (Yaoi)
By Leroy Douresseaux
October 28, 2008 - 12:47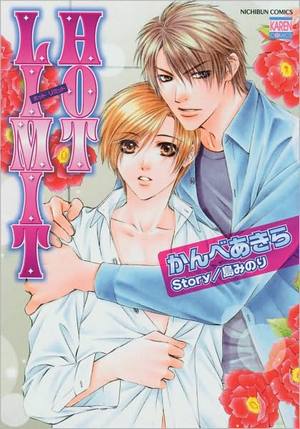 June Manga will keep the cover illustration from Japanese edition, but will replace the cover copy.
Rated "M" for "Mature Audiences 18+"
In the boys' love manga, Hot Limit, by artist Akira Kanbe and writer Minori Shima, a wayward college student discovers that a pimp is wooing his brother and that his own new lover has dual personalities – one them being an impudent male prostitute.
20-year-old Kazuma Sogou is a struggling college student who works in trivial jobs that both kill time and pay bills. One of those jobs is as a bartender, which is how he first encounters a young man named Maya. Maya is as cute as a girl, but he is a seductive partygoer with an overactive libido and an arrogant attitude that is outsized compared to his petite size. Kazuma is attracted to Maya, although Kazuma tells himself that he could never have real lustful feelings for another man.
Kazuma takes a job with a wealthy family to tutor their high school age son, Shinya Suzaki, and much to Kazuma's amazement, Shinya looks exactly like Maya. Could the well-mannered student also be the saucy boy with the overactive libido that Kazuma met the night before? Or are Shinya and Maya twins? Shinya and Maya are also connected to Seiichirou Tanabe, a mysterious Congressman who seems to be behind some nefarious business dealings. Kazuma is shocked to learn that Tanbe also knows his younger brother Hisashi.
THE LOWDOWN: Boys' love (BL) manga are comics for women that depict love between two males. Yaoi manga is a subset of BL that features graphic depictions of sexuality between male lovers. Hot Limit offers the best of BL and yaoi – intense romantic love between two men and hot sex! More than anything, however, Hot Limit is unabashedly romantic, and an old fashioned romantic, at that.
What writer Minori Shima offers in lead Kazuma Sogou is a young man prone to the urges for physical sex, which is normal, but Shima presents Kazuma, as above all things, a guy who does the right thing. He struggles with vice, but chooses his better side or better nature. Kazuma is chivalrous without seeming chauvinistic. Shima also provides an interesting subplot, involving politics, bribery, and sex that runs through the main storyline (Kazuma and Shinya/Maya) and that holds everything together. This subplot provides a framework for conflict, which makes the battle for love to win all the more interesting.
The art by Akira Kanbe is fantastic. Much of the figure drawing relies on bishounen – the androgynous or feminized depiction of young men, especially teens and men in their early 20s – a style also known as "beautiful boy." Kanbe's composition and style is certainly beautiful, but he emphasizes storytelling and dramatic effect and makes Hot Limit a highly successful narrative.
POSSIBLE AUDIENCE: I think practically any yaoi reader would find Hot Limit a joyous read, because it is as romantic as it is steamy.
A
Last Updated: September 6, 2021 - 08:15