Comics / Manga / Yaoi Manga
Akira Kanbe's Loving Gaze (Yaoi)
By Leroy Douresseaux
June 22, 2008 - 08:53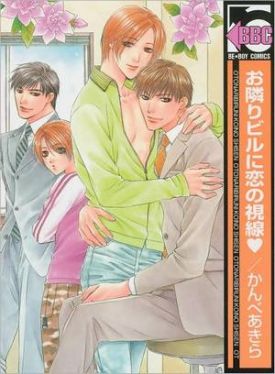 June Manga's edition of this Japanese book retains the cover image and removes the Japanese copy.
Rated "M" for "Mature Audiences 18+"
Gazing from the offices of his AIR Designs, design entrepreneur Kazumi Mizuno can spy on a young businessman who works in the opposite building. Chance brings Kazumi into contact with the secret object of his affections, Atsushi Yajima, and it turns out that Yajima's had his eyes on Kazumi also. They hit it off, but Kazumi can't get over how familiar with his moods and desires Yajima seems. Is he too good to be true?
Meanwhile, Kazumi's employee, Hiromu Yoshimura, is also smitten with someone at Yajima's firm, Yotsuba. Hiromu's dreamboat is a tall, strapping fellow named Toshiya Kunieda. Hiromu can't take his eyes of the slightly older man; however, Hiromu is so unlucky in love. Should he risk pain again and reveal his feelings to a man that might be straight?
THE LOWDOWN: Offering a trio of interconnected tales, Loving Gaze emphasizes deep romantic yearning that'll make even the reader ache and also passionate lovemaking that sends lovers trembling down the path to a squeal-inducing climax. Also, there aren't too many artists that are better at cartooning the human figure (especially the most difficult parts: faces, heads, and hands), clothed or naked, than Akira Kanbe. It doesn't matter if the characters are working, playing, posing, etc., Kanbe is unusually good at figure drawing. This is to say nothing of how beautifully Kanbe draws two naked figures in bed embracing or coupling.
POSSIBLE AUDIENCE: Readers who like the white hot heat of yaoi sex and the lovely patterned toning and decorative background flowers of shoujo romance will give this book a Loving Gaze.
A-
Last Updated: September 6, 2021 - 08:15