Dorian Cleavenger's Akira
By The Editor
January 13, 2009 - 19:53
Inspired by the work of renowned artist Dorian Cleavenger and sculpted by Plant-jzero Moekichi, Akira is the first piece in Yamato USA's Fantasy Figure Gallery. Yamato USA's Fantasy Figure Gallery is a groundbreaking union of East and West as the leading sculptors of Asia deliver the worlds of legendary fantasy artists from Europe and the Americas as only they are capable. Take for example, Akira!


Standing at an impressive 10.50", 15.00" with her ornamental staff and themed display base, Akira is constructed of over 100 individual pieces and features over 400 paint applications, twice the conventional statue. The result: an amazingly detailed piece of unmatched quality. But artist Dorian Cleavenger puts it best: "Yamato USA's attention to detail and accuracy has far surpassed any expectations I've had; it's like seeing my painting come to life. They have created a beautiful piece of art. This to me is a 'dream' come 'true.'"
Indeed. A beautiful piece of art whose soft, enigmatic features will draw you in and take your breath away as they have with us. See for yourself with a special video presentation, Dorian Cleavenger's "Akira" Statue from Yamato USA, on YouTube.
Fantasy Figure Gallery: Akira is available now in the US / Canada through retailers such as Sideshow Collectibles, HobbyFan, Entertainment Earth, Big Bad Toy Store, ABC Toys 4 Me, Anime Palace, Anime Alley, Athens Anime, Bud Planet Comic Art, Cards & Comics, Circle Red, Heroes & Comics, Kirin Enterprises, Moonko, Statue Galaxy, Tates Comics, ToysLogic, Treasure Island, Twin Moons, Wayne's Comics, and distributors AAA Anime, BBCW, Grosnor Sportscards, and Diamond Comics. And in Europe / Asia Fantasy Figure Gallery: Akira is available through distributors Asia Goal, KAZE, PBM Express, HEO and Hobby Club. For more information, contact your local comic shop or visit us at www.YamatoToysUSA.com.
This talented, multi-faceted artist has garnered international fame for his novel approach to art…a distinct style he terms "Pseudo- Realism", which is characterized not only by his intriguing subject matter, but also his mastery of the imposing and difficult medium of acrylic paints. This technique has been so successful that many professional artists have confused his work as having been done in oils or airbrush.
Initially, after completing school, Dorian did artwork as a freelancer for various corporations; but feeling inhibited by the requirements of commercial art and by the concepts and dictates of the business world, soon struck out on his own. Not long after he was doing covers for magazines, illustrations for various publications, and holding exhibitions of his original work in Europe and the United States. Several art books exclusively dedicated to his works followed, as well numerous articles and interviews on his art and techniques published throughout the Americas, Europe, and Asia. And now , in conjunction with Yamato USA, Dorian adds three dimensional figures as part of Yamato USA's Fantasy Figure Gallery.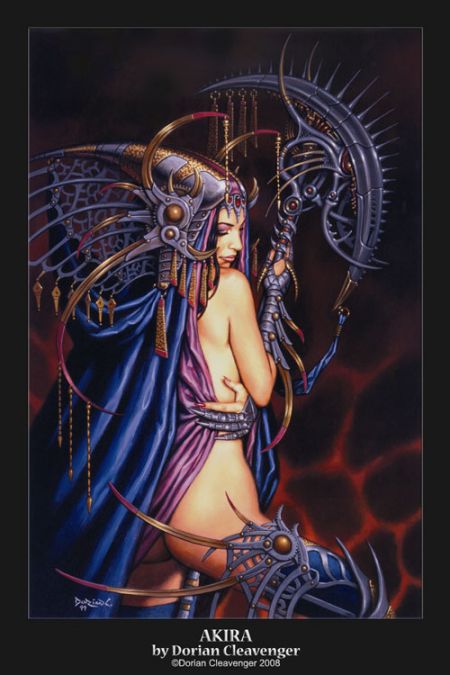 Having become highly successful as a freelance artist, Dorian has also undertaken to share the knowledge he has acquired through acute analysis of the materials and techniques he employs. He currently teaches classes in airbrush, acrylics, and conceptual art and design at the prestigious Douglas Education Center near Pittsburgh, Pennsylvania, which has given him an outlet and the satisfaction of seeing his students accomplishing their artistic desires under his personal tutorage. Dorian has also recently completed work on a personal tutorial DVD. As well as displaying some of this prolific artist's paintings, this DVD is structured to help the viewer, whether he is an accomplished artist or a beginner.
Last Updated: September 6, 2021 - 08:15