Akira Toriyama's Cowa!
By Leroy Douresseaux
June 17, 2008 - 11:47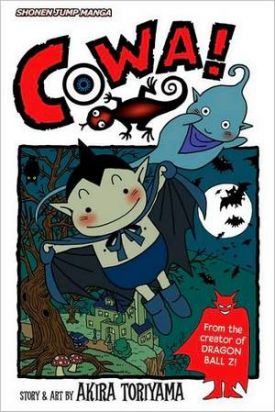 Thanks to barnesandnoble.com for the cover to Cowa!
Rated "A" for "All Ages"
In the small town of Batwing Ridge, monsters and humans live side by side. Paifu may be a half-vampire (from his mother)/half-werekoala (from his late father), but he is also a rambunctious boy, who always gets into trouble with his best friend, José Rodriguez, a little ghost boy. When the deadly Monster Flu sweeps through Batwing Ridge, Paifu recruits José and his rival, Arpon, to travel all the way to the secluded home of the Witch of Horned-Owl Mountain to obtain a cure.
However, the Witch's home is hundreds of miles away, and the boys need an adult to take them, but practically all adult monsters in town are sick with Monster Flu. Enter Mako Maruyama, a former sumo wrestling champion, the legend known as "The Volcano." Retired and living in Batwing Ridge, Maruyama is as an outcast with rumors that he murdered a man swirling around him. Paifu uses all his wiles to get Maruyama to drive them to Horned-Owl Mountain, but it's a trip fraught with peril. What will happen when Maruyama learns the truth and will they make it in time to get the cure for the rapidly spreading Monster Flu?
THE LOWDOWN: The creator of such popular titles as Dragon Ball, Sand Land, and Dr. Slump, Akira Toriyama is known for his imaginative creations and idiosyncratic design styles. Cowa!, a horror manga for young readers, fits right in with the delightfully tart and eccentric flavors of his other work.
Like a blend of Charles Addams' "Addams Family," Tim Burton's Nightmare Before Christmas, and "It's the Great Pumpkin, Charlie Brown," this manga is simply a really fun, Halloween-infused adventure and road story. Young readers will love the cutesy kid monsters and cartoonish macabre setting, but all readers will love this tale of male bonding and playful fisticuffs. Cowa!'s messages about lasting friendships, making rivals into buddies, and getting to know new people by meeting them feel genuine.
POSSIBLE AUDIENCE: This "Shonen Jump" title isn't aimed just at boys because its fun spirit and heart will endear it to lots of readers.
A
Last Updated: September 6, 2021 - 08:15