Comics / Comic Reviews / DC Comics
Young Liars #1
By Zak Edwards
March 12, 2008 - 00:12
Young Liars #1

Young Liars is a new ongoing series by a creator who appears to have a substantial cult following; David Lapham, the man behind Stray Bullets. The first issue of this series follows a single night in the life of Danny Noonan, a boy who moved to the city in search of fame and fortune. Those dreams have fallen to the wayside as Danny now hangs out primarily with an amoral adrenaline junkie named Sadie Dawkins. The issue is laced with cocaine, graphic violence and, like all comics published by Vertigo Comics, is not appropriate for children. Mature audience only.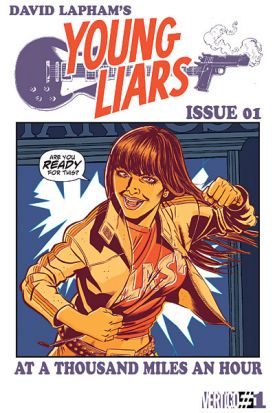 The protagonist, Danny, is in love with a girl who, in a single issue of a comic book, bites off a man's nose after beating another man senseless, gets shot at, starts a miniature gang-war, the list goes on. The story is about kids lost in the cracks of a big city's club scene, it's not pretty as these crazy, messed up characters are isolating for two reasons. First, they are quite extreme, which makes sense to a degree given the nature of the comic being that of adreneline seekers in the big city club scene. But these friends, most Danny doesn't even like, vary from bulimic model to heroin-addicted transvestite and beyond. Danny, on the other hand, appears fairly normal, and this distance he has from the other characters is resonates on the reader. He is referred to as a puppet-master but in actual reality he is more a baby-sitter as he is constantly regulating others behaviour. The issue relies on the possible border-line shock and offensiveness of the actions of the characters as a distraction, anytime the plot begins to lag, Lapham brings in drugs or other behaviour to keep the reader putting the comic book down. This all makes for a fairly okay comic book messing around with some fairly crazy subject matter, but Lapham did create a comic book that has potential. It would be easy for Lapham to make this comic into a man saves people from themselves story, but Danny does not seem to care or have enough substance to do that. He is fairly passive, leaving these characters to get seriously messed up. The world is falling around him and Sadie, which is interesting and leaves plenty of room open for very different styles of plot lines and situations. But when they look up from the situation, what will they see? Lapham could easily lose his way, but there is something engaging to Young Liars so it may be worth sticking to.
Lapham's art is nothing special, not to suggest it is not poor, but there is very little to point out as great. It does the job. Lapham's art shows the characters for what they are, it is very unforgiving in that area. The bulimic model is gaunt and sick looking, Danny's groupie rival for Sadie's attention is dolled up but seen giving oral sex to a passed out guitarist. Meanwhile, protagonist Danny is once again very normal looking, separated from all the other cast of characters. But some of the unforgiving depictions cross the line into caricatures. Some of these make sense, like Sadie's aging father and dwarf brother. But the transvestite character of Donnie borders on comedic, which does not help when she is seen passed out with a needle in her arm. Just like the story, Lapham's art is okay. For a writer with such a history and following, I was expecting more, but David Lapham has convinced me to buy the next issue, but issue three is up for debate.
7/10 Young Liars has some potential but must begin to rely on elements besides mere shock value
Last Updated: January 24, 2022 - 11:00