Comics / Spotlight / Progressive Panels
Superman To Renounce U.S. Citizenship
By Andy Frisk
May 4, 2011 - 15:41
The Planet's Opinion
By Clark Kent, Senior Daily Planet Writer


Editor's Note: Clark Kent is the highly respected and award winning writer, novelist, and investigative reporter for The Daily Planet and thedailyplanet.com.
Superman's presence was recently requested by Gabriel Wright, The President's National Security Advisor. They met at Camp David in Frederick, Virginia. Wright asked Superman "Why did you do it?" and "What in God's name were you thinking?" in response to Superman's nonviolent show of civil disobedience and solidarity with Iranian protesters seeking political and social change while laboring under the repressive regime of Iranian leader Mahmoud Ahmadinejad. Superman stood with the protesters for 24 hours in a show of solidarity. He did not move. He did not engage the Army of The Guardian of The Islamic Revolution. He made no reaction when protesters tossed "roses at his feet." He made no move when "counter-demonstrators threw Molotov cocktails" at him. Superman's actions were of peaceful protest. The (potentially) most powerful man in the universe did not lift a finger to enact, or more importantly enforce, any type of political or social change. He simply stood up, literally, for democracy, freedom of speech, freedom of religion, and freedom of the press, as well as for truth and justice. For this he was called before Wright under the watchful eyes of elite Special Forces snipers armed with rifles loaded with Kryptonite laden bullets, just in case he had gone "rouge." One might wonder "Is it any question why Superman
MUST
renounce his U.S. Citizenship?" The answer is much more complicated and poignant than this though. Whether or not the U.S. government sees Superman's actions as directly representative of American foreign policy is not the point here. The
world
sees Superman's actions as representative of American foreign policy. While America's foreign policy, at least topically, is motivated by the desire to promote freedom and democracy around the world, and has declared its actions in Iraq, Afghanistan, and Libya as deriving from such, these ideas (which do make America exceptional) are not the sole province of America's to enjoy, utilize, or necessarily impose. The action of standing up for freedom, like the protestors in Egypt, Libya, and Iran have done recently, is derived of America's example, not its military action. The actions taken in Afghanistan and recently in Pakistan, the goals of which have been finally achieved with the killing of Osama bin Laden, were taken in the pursuit of justice. (The action in Iraq is still too murky to be judged on its merits now. History will have the ultimate say on the validity of the Iraq War.) It would be foolhardy to give full credit to these American actions for inspiring the Middle Eastern revolutions under way, which have been dubbed the "Arab Spring." The universal ideals of freedom and democracy are the inspirations of the "Arab Spring." Ideas such as these are the province of no nation. How can any one nation own freedom and democracy? They are ideas bigger than just the United States and the Western World. Superman himself now is a symbolic embodiment of ideas that are bigger than the restrictions his U.S. citizenship place on him ideologically, socially, and politically. Just as the ideals of freedom and democracy, while they are what makes The United States of America great, cannot be owned by The United States of America, Superman, who's championing of freedom and democracy, part of what makes Superman great, cannot be owned by United States of America.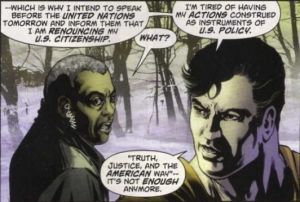 Artist's rendition of the conversation between Wright and Superman.
Superman is more than an American citizen. Superman is more than a citizen of Earth. Superman is a citizen of the Universe. He has aided and defended oppressed men, women, children, and extra-terrestrials the universe over. Superman is not a god or savior. Superman is not perfect. Superman
is
willing though to put his great gifts to use in service, not domination, but Superman is not an enforcer. Superman does not start unprovoked wars. Superman is not a vigilante. Superman is an example. He is a symbol. He is a symbolic manifestation of the spirit of freedom and democracy, the very ideals that drive America. While at heart Superman will always be American, he is larger than America, just as the ideals of freedom and democracy are larger than America. Thank you, Superman, for reminding us of that.
Last Updated: February 5, 2023 - 09:06