Comics / Comic Reviews / DC Comics
Supergirl #10 Review

By Zak Edwards
July 13, 2017 - 19:37
I find Kryptonian character to be in a bit of a bind when it comes to their stories. In general, the sheer level of power available to characters like Superman and Supergirl can lead to antagonists and stories that swallow the character in a justification for the threat they face. Take Superman Returns as an example, or Superman: Earth One. In order to find a threat great enough to challenge Superman, the sotry itself gives way to the unbelievable and strange (Superman Returns and Luthor's Kryptonite Continent) or the bewilderingly escalated (The entire race of aliens in Earth One).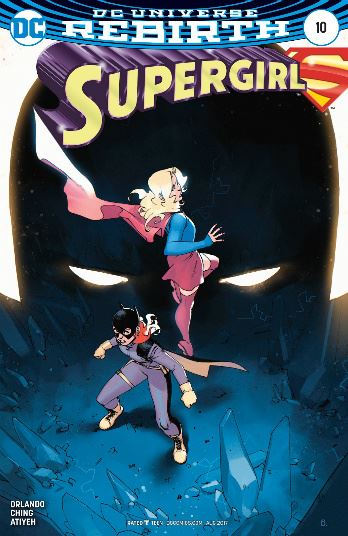 Supergirl & Batgirl team up in Supergirl #10. Variant cover by Bengal.
But the other end of the spectrum can also be an issue, that being the stories where the Kryptonian protagonist has their powers stripped from them and they are left to their own wits and/or teammates to pull through. Nearly every superhero show uses this device at least a few times in their runs and it can often be terribly uninteresting.
Which brings us to Supergirl #10, in which Batgirl, Supergirl and a guy named Ben enter the Phantom Zone. Supergirl, stripped of her powers, must rely on her wits (and Batgirl's resourcefulness) to save the day. The story, while a lot of fun and helped in a large part by artist Brian Ching's bouncy, animated style, spends more time justifying its approach than revelling in two awesome heroes kicking butt together (and Ben is also there).
Don't get me wrong, reading and seeing Supergirl and Batgirl beat up some prison guards is a bunch of fun, but the story wears its plot devices on its sleeves. Supergirl being depowered is mentioned multiple times throughout by almost every character, yet the actual stakes of her de-
powerment
don't really play until the cliffhanger. Besides, it reads like a stereotypical version of the "de-powered superhero" story without bringing anything new. And since the stakes of Supergirl's powers are more explained than shown, it begs the question of why de-power Supergirl at all?
Overall,
Supergirl #10
is more explanation than story, which gets in the way of what should be a fun time. Rather than letting these characters drive the story, they talk in such a way as to constantly explain the action, their feelings in their entirety, and to reiterate the situation they're in. It's as if writer Steve Orlando doesn't trust Brian Ching to deliver, which only serves to cover up the art with speech balloons. And personally, I would much rather see a beautiful friendship than
hear
them talk about it.
tl
;
dr
review:
Supergirl #10
has a lot of strengths going for it, from the characters to the art, but it seems lost in a desire to over-narrate and justify its chosen plot.
Last Updated: February 5, 2023 - 09:06