Comics / Comic Reviews / DC Comics
Review: Supergirl Annual #1

By Andy Frisk
September 25, 2017 - 20:43
Supergirl's current stories, under the direction of Steve Orlando, have been just as good, and, in some instances, more interesting that her older cousin's current stories. Supergirl Annual #1 serves as a continuation of the story line currently running through the Supergirl regular series, so while it does a good job of advancing plot lines, creating new tensions for Supergirl, as well as new challenges, it doesn't really serve as a character introduction or stand alone tale meant to spark new interest in the character for the casual reader who might pick it up on a whim. Something that annuals often are designed to do. Nevertheless, Supergirl's tales in the DCU remain solid overall, even if her first annual of the Rebirth Era of DC Comics is really just a longer monthly installment.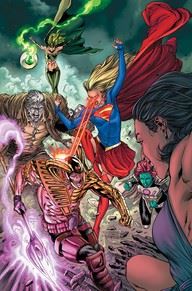 One of the hallmarks of Orlando's run on the character is his smart use of contemporary issues to trip up the character or create conflict. His use of a leaked, private, and out of context social media video to publicly attack Supergirl and turn popular opinion against her is a excellent example of this. He also manages to write a teen aged superhero pretty convincingly. On the artwork side of
Supergirl Annual
1, Steve Pugh manages to strike the perfect balance between making Supergirl attractive, but not sexy just as a teen girl should be portrayed. Supergirl was also plagued with way too revealing outfits over the past two decades and the return to a longer skirt length along with high boots makes her look more more mature as well as decent.
Supergirl
and its first Annual of this volume are solid superhero comics with fun and smart storytelling and realistic characterizations. What else can you ask for?
Rating: 9 /10
Last Updated: February 5, 2023 - 09:06