Comics / Comic Reviews / DC Comics
Supergirl #47
By Andy Frisk
November 24, 2009 - 23:12
Alura, leader of New Krypton, mother of Kara Zor-El (Supergirl), and widow of Zor-El, Kandor's previous leader, puts Reactron on trial for the murder of her husband. She claims she is seeking justice and not vengeance, a vengeance that many on New Krypton are seeking. She has vowed to follow thru on Zor-El's desire for a just society where law and due process rule, but she ends up making a painful choice that alienates her from the ideals of her deceased husband, and will seriously threaten her standing and relationships with Kal-El and Kara…It is a choice that she doesn't make lightly, and is a product of her grief, anger, and conflicting thoughts and emotions.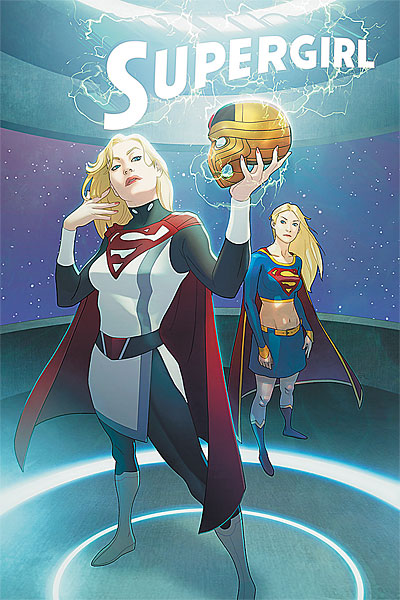 Supergirl #47 relates, through a series of flashbacks and present time sequences, the complexity of Alura's character. Through masterful storytelling, Gates manages to provide some powerful insight into Alura's relationship with her husband and how that relationship changed her over the years, and is still affecting her after his death. Alura, being a member of the Science Guild, is a strict adherent to logic and reason. Emotion has no place in the Science Guild, let alone love. "It's been proven time and again that what your guild calls 'love' is just a chemical response in the brain, generated by external stimuli," explains Alura to Zor-El during their courtship. She cannot deny the validity of her feelings though as she falls in love with Zor. Alura, the child of cold logic and science, becomes a woman of conflicting emotions and logic. The Science Guild teaches her to suppress her emotions, Zor stirs the positive emotions in her, like love, and evil entities like Brainiac and Reactron stir up the darker side of her character, a side that feels remorse for her actions, but yields to cold logic, which is bolstered by a justification of deceit. Joining in Alura's deception is a new ally that most assuredly will alienate her from Kal and Kara, the two closest living links to the love and balance that Zor-El provided in her life.
Alura's actions and purposeful deceit are products of her faulty logic as much as they are products of her desire to defend New Krypton against its enemies on Earth. She feels that by taking the course of action she does with regard to Reactron's "death," she is helping defend New Krypton from men such as he, but all she will end up doing is pushing New Krypton and Earth closer to all out war. The greatest irony is that Alura admits that what she is doing feels wrong, but that logically she has to pursue her path of action to the end. She is following the dictates of her head and not her heart instead of balancing the two and making a sound judgment. One has to believe that Alura once had the ability to balance logic and emotion at one time, but now, regardless of her protests to the contrary, is unable to do so due to the gaping hole left in her heart after the death of her husband.
Gates' intense character study of Alura is augmented and completed by Matt Camp's artwork, which relates and fills in the nuances of the tale. Alura's body language, facial expressions, and actions all communicate the unspoken thoughts behind her words. Camp captures them all perfectly with great attention to detail, and insightful recreations of realistic and accurate anatomy. He also does a great job of capturing New Krypton's scientific look and feel, which continues to pay homage to Richard Donner's Superman films while blending in various aspects of Silver Age and John Byrne Age Superman Kryptonian styles of dress and tech.
Overall, Supergirl continues to be one of DC Comics' best written superhero titles. The art and storytelling, even with Jamal Igle's absence this issue, continue to deliver this book's readers some of the most interesting and engaging characters and events in all of comics right now.

Rating: 10 /10
Last Updated: January 24, 2022 - 11:00