Comics / Comic Reviews / DC Comics
Supergirl #4
By Andy Frisk
December 28, 2011 - 20:52
Supergirl, with the help of a sympathetic employee of her devious captor Mr. Tycho, escapes from the near Earth orbit space station where she's being held in order to unlock the secrets of her outfit, physiology, and powers…for Mr. Tycho's gain of course. After flying around in her weird, underwear bodysuit, she gets back into her bikini wax highlighting suit and kicks some ass. Unfortunately, and at least regrettably to her, she does a little more damage than she means to, finally realizing that the guy who "claimed to be Kal-El" was right, and that she should be more careful with her powers. Keeping with the new tradition of "S = angst" in the S-Titles, Kara sits on a cloud longing for her parents and wondering still if she should trust "that guy." Well, with the way he's acting over in Justice League #4 (again totally out of character and step with the Superman we've known and loved for years), who can blame her?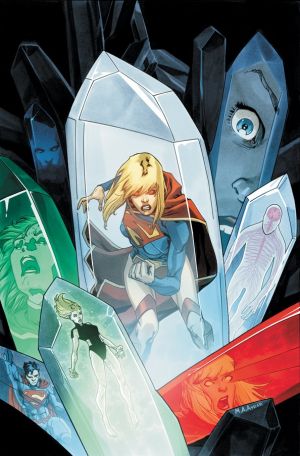 Supergirl is getting better. I'm only reading it out of my life long devotion to the characters, and to see if anyone can hold a candle to what Igle and Gates did with the character. Green and Johnson are sort of getting on the right track this issue though. At least they are showing some dynamism in her character. Something that Gates did wonderfully with Kara. Green and Johnson also do a pretty decent job of setting Kara up with a major nemesis in Mr. Tycho. I just can't wait for the DCnU to get past the introductions and tell some stories more in line with what us true fans want.
Asrar's pencils and inks are solid. He hits all the marks required to be hit by a monthly sequential artist. One thing that bothers me about his panels is that he'll leave huge white spaces around his characters' motion lines and stuff written sound effects in them. This seems like it cuts up the panel to oddly, especially when the books gutters are white.
Strangely enough, I'm interested in seeing what developments are in store for Kara, especially the "Return to Argo" promised "Next Issue." Maybe she's going to get to the bottom of what happened to her, i.e. how she ended up on Earth. This probably won't be the case, as dragging out and screwing with Kara's origin and parents is par for the course with the character since she was reintroduced a few years ago. Either way, it won't be nearly as interesting as her central story and role in New Krypton was…and that story doesn't even matter anymore since it "didn't happen."
Rating: 7 /10
Last Updated: December 31, 2019 - 20:28