Matt Fraction and Greg Land Need To Leave Uncanny X-Men
By Hervé St-Louis
June 22, 2009 - 22:40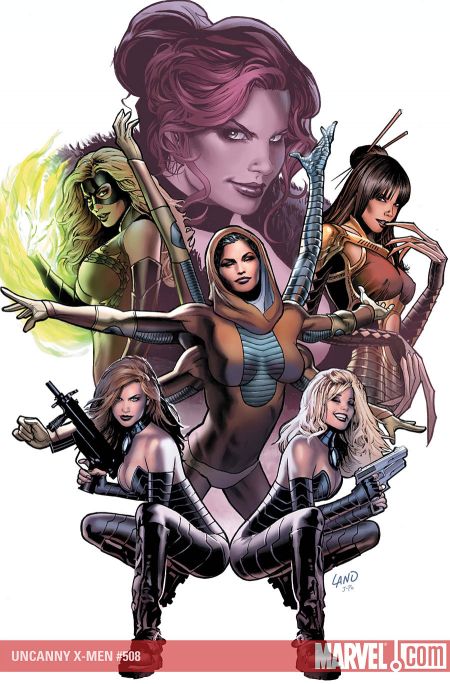 Same faces on all the women
After writing a
review of Uncanny X-Men #511
, I thought that I was the only one that didn't like it. I wrote that the
X-Men's history
was becoming more and more confused and that if nothing worthwhile was done with X-Men leader Cyclops' ex-dead wife, Madelyne Pryor that perhaps it was best not to mess with her. I also wrote how I was annoyed at Greg Land's work in that review and the one about the previous issue,
Uncanny X-Men #510
. There, I complained about how all his women look the same and how Marvel Comics is using him to draw readers in to mask the problems with this comic book series.
Matt Fraction and Greg Land joined
Uncanny X-Men for issue #500
where they took over the former team of Ed Brubaker and Terry Dodson. In that issue both teams of creators and others wrote a medley of stories that are neither all bad nor neither all good, as all comic book special anniversary issues and anthologies tend to do. The next issue,
Uncanny X-Men #501
established a new direction for the series where it would be based on mutant discrimination and vigilante groups fighting them. The villain behind the group was revealed as Madelyne Pryor. I don't like how she was used in that story. Her history had been muddled the last few years with contradictory origins and whereabouts and really she had been left alone as all redundant characters should. But Fraction, I guess hoping he could put a mark on his tenure with the X-Men aimed for the prize that was Madelyne Pryor.
Well, it turns out that I'm not the only one that has a problem with Fraction and Land. Just on this site reviewer Patrick Bérubé had negative comments about earlier issues of Uncanny X-Men. In his review of
Uncanny X-Men #509
he discusses the lack of subtlety in Fraction's writing and like me is getting annoyed at a comic book artist' whose only strength is to draw women that all look the same. Other writers outside of
The Comic Book Bin
have also expressed concerned over Fraction and Land's tenure with the
Uncanny X-Me
n. Over at
Comic Book Revolution
, the reviewer asks why Marvel Comics does not replace Fraction with a better writer? At
Comic Vine
, the reviewer writes that nothing good came out of the story-arc with Madelyne Pryor and her Sisterhood. At
Comics Bulletin
, reviewer Bill Jansen writes that
Uncanny X-Men #511
was a mediocre issue. His fellow reviewer, Dave Wallace adds that the fight between the X-Men and their opponents ended flatly because of a lack of resolution in their conflict. At
Weekly Comic Book Reviews
, Kyle Posluszny writes that Fraction lets Land do all the heavy lifting in terms of the story. Benjamin Birdie from
Comic Book Resources
, is a bit more generous with Fraction's writing, although like many other reviewers, he notes the weakness of Land as an artist whose only strength is drawing pretty women.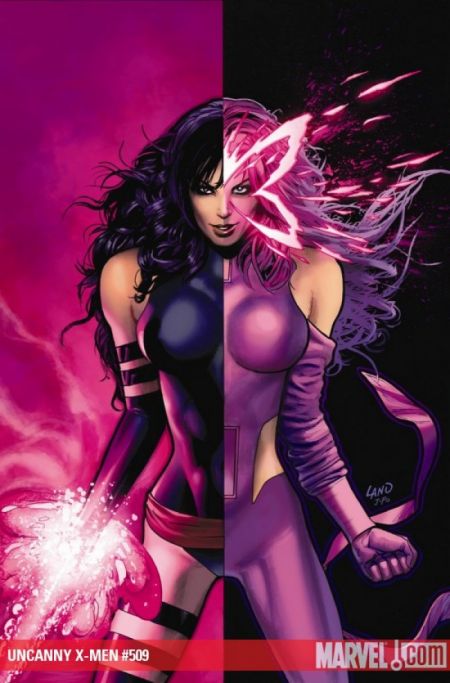 A woman with hips so tight, she could never ever give birth
About Land's pretty women, looking at several images where he poses them statically in photo-real delight, I have concerns about the width of their hips. They look more like juvenile women than able-bodied women capable of giving birth to children. Their hips are so tight they compete with the waist size of men for narrowness. All of Land's women really look the same. One has to rely on their costumes to tell them apart because even their hairstyles are similar. They all have puffy long hair with locks flying all over even when they are wet or flying against the wind.
Fraction and Land have done extraordinary work elsewhere. Fraction is currently writing an excellent
Invincible Iron Man
series for Marvel Comics that is really taking the character to new heights. Land was one of the main artists behind Crossgen Comics'
Sojourn
and before that did a marvellous job on the
Birds of Prey
where again, women were at the centre stage. However, it seems like Fraction wanted to telegraph a storyline that would be easy for Land to draw by introducing all these women in the Madelyne Pryor story arc. Fraction and Land are not going anywhere new with their current take on the X-Men. To be fair, one could fault Brubaker and Dodson, the previous team on the series, for doing nothing but the same. Introduce stories that play upon old threads best forgotten and surround them with beautiful artwork to fool readers into believing they are reading something profound.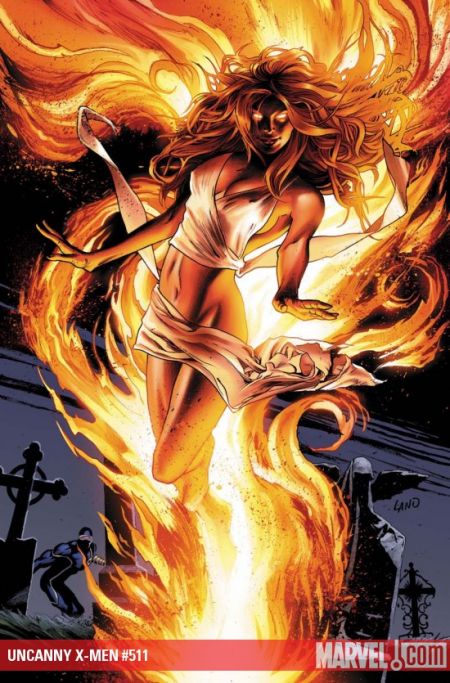 Reviving old threads for no reason
Unfortunately, the
Uncanny X-Men
, as the flagship series of the X-Men family of books needs more than placebo entertainment. Where are the new conflicts coming from? What about all those characters running around in San Francisco? I will not suggest where this series needs to go next, but I will say that it's currently going nowhere and that Marvel Comics needs to wake up before more readers like me decide it may be time to jump ship. The fact that
Uncanny X-Men
is the last book I bothered to read last week is not a good sign. A name and a reputation can only do so much. Fraction and Land had a strong opportunity to impress readers over several issues of
Uncanny X-Men
and based on the reviews from my peers and mine, they haven't quite succeeded. I had more enjoyment reading the dated
X-Men Forever
with the melodramatic dialogues and thought bubbles, than I did the post modern and stoic piece created by a team of professionals that are said to be at the peak of their careers.
The X-Men have always been liked because they were cutting edge in the way they criticized and commented upon minorities by using the fictional allegory of mutants allowing anyone to understand their plight. Currently, there is no such feeling about
Uncanny X-Men
as handled by Fraction and Land. They switched a story that was going to be about supremacist group by making the bad guys' leader the scorned wife of the X-Men's boss. All they do is revert back to the soap opera aspect of the X-Men as so many other writers like to do when they run out of ideas about how to use the X-Men as an allegory for discriminated minorities.
Last Updated: March 10, 2022 - 22:00