Comics / Comic Reviews / Marvel Comics
Uncanny X-Men #510
By Hervé St-Louis
May 26, 2009 - 22:09
Madelyne Pryor and her crew of angry women continue their assault against the X-Men but their lead in the fight may not last long as the X-Men are slowly gaining the upper hand and fighting back. But Madelyne came to X-Men headquarter to retrieve something and she will not leave without it. That is unless Wolverine has anything to say about this. Who will capitulate?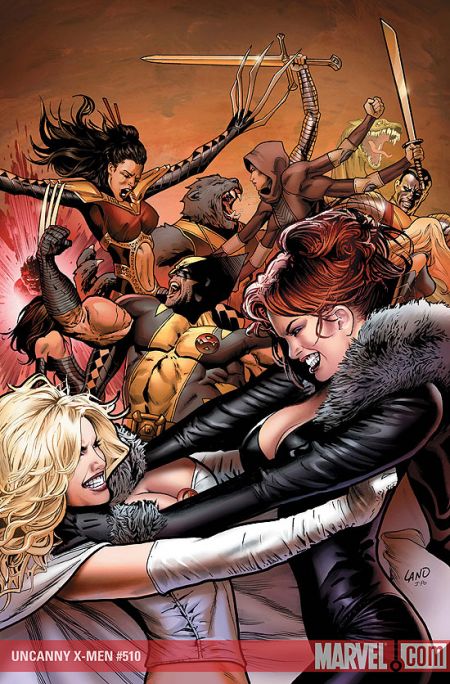 I grow tired of all those mutants who were supposed to number at no more than 200 continuing to pop up in stories. I grow tired of old characters suddenly finding a new purpose and being repackaged into something else. I grow tired of secondary characters based on existing ones, like Cuckoo Sisters and X-23. But the one thing I grow tired of is the proliferation of mutants with mind control powers. This is becoming as ridiculous as the proliferation ninjas in G.I.Joes a few years ago. Where is the originality? Where are the stories that built on new elements as opposed to old regurgitated stories? I want to see and read something fresh and frankly this series, by this new team offers nothing that will advance the X-Men franchise. By the time they are done, all the toys will have been put back in the toy box and it will left to another writer to find something to do with all those mutants.
It's easy to package boring stories with beautiful art. It makes the less palatable, palatable. But want to know something? I'm growing tired of Greg land's work too. Marvel always assign him to series they don't feel would fly on their own. So he adds an extra boost that makes the reader feel like this is major stuff happening, when in fact, it's as banal as the worst of the 1990s X-Men material. Is there any hope for the X-Men?
Rating: 6 /10
Last Updated: September 6, 2021 - 08:15