Comics / Spotlight / Knowledge
An Introduction to Speed Racer
By Hervé St-Louis
Apr 20, 2008 - 4:05
Although the new Speed Racer film is targeted at nostalgia buffs, many don't know much about the character and his world. If you're interested in the new Speed Racer film, but need more background information, this article is for you.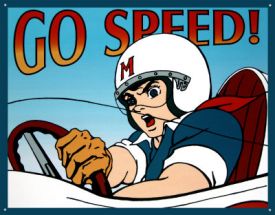 Source: Allposters.com
Speed Racer is the story of race car driver 18-year-old Speed Racer, the second of three brothers born from Pops Racer and Mom Racer who run a racing family. Pops Racer, Speed's dad, built his car the Mach 5. Speed's older brother, unknown to him and most people, Racer X who competes in many races with Speed Racer. As well, as racing all around the world in exotic locales, Speed Racer also fights crime with girlfriend Trixie, best friend and mechanic Sparky and his younger brother Spritle.
Speed Racer was created by Japanese comic book artist and animation producer Tatsuo Yoshida in 1966 as the manga Mach GoGoGo. Yoshida, much like contemporary
Osamu Tezuka
moved his creation from the printed pages to the animation medium for television.
In 1967, he founded the animation studio Tatsunoko Productions where Speed Racer was adapted to a 52 episode animation series. Yoshida also created Gatchaman, also known as the
G-Force
, in North America.
Mach GoGoGo was one of the new breed of animated production from new upstart companies in Japan following the lead of Toei and its lead creative consultant, Osamu Tezuka. By then, visual mediums had established themselves on the Japanese psyche and action-based series with a touch of science fiction and older themes appealed to the public.
A few months after its release on Japanese television, Speed Racer's English license was purchased by Trans-Lux Television Corporation where Speed Racer appeared in the fall of 1967 on American airwaves. Currently the English license is held by Speed Racer Enterprises.
Two subsequent television series were produced by American animation companies Fred Wolf Films, in 1993 and DIC in 2002. Both series had few episodes than the 52 ones produced by Tatsunoko Productions and are not in circulation. Nicktoons will broadcast a new series based on the descendants of Speed Racer in the fall of 2008.
There has been no new Speed Racer material from Japan where the series has never had such a wide following as in the United States.
Speed Racer was one of the first Japanese animé imports to American airwaves in the 1960s and started the tradition of offering television viewers in North America and Europe contents that had been developed for a younger audience in Japan which allowed networks to save money on acquiring original material that had been developed and paid for elsewhere. As one of the first animé series, Speed Racer has developed a cult following and been syndicated several times by various American networks.
Speed Racer is an interesting series as it pits a classic Japanese theme of the young optimist protagonist with an older brother against an older one, in this case his brother whose behaviour is darker, more mysterious and more cynical. Yet, it is the younger hero who is the star of the show. Such themes have echoes in American literature in Horatio Alger's work but also in American comic books by creators
Geoff Johns
, in Star Spangle kid, where a young girl fights crime with her step father and by many others such as comic book artist
Ted Seko
.
Inspired in part by
Astro Boy
, created by Osamu Tezuka, the theme of the young protagonists competing against older figures can also be seen in the work of Japanese manga creator Otomo Katsuhiro and what is referred to as
yaoi mangas
about young men falling in love with older male figures.
The story of Speed Racer is about a young man coming of age. One hand, he has the example of his older brother who left home and became a colder and darker person. On the other hand, Speed Racer lives within the confines of a balanced traditional family with a mom who doesn't work and takes care of the family, a father who is a small entrepreneur and great friends around him. Yet, Speed Racer competes in a dangerous and anti conformist sport with the best technology can provide for him. Speed Racer's Mach 5 sports car, becomes his way of escaping from the tight surrounding of a traditional life, while his family reinforces this independence by helping him, it is never far from him, as his younger brother Spritle is prone to do, hide under proves.
Several book collections reprint much of the Speed Racer comic book series created by Yoshida are available as a
two volume hardcover series by Digital Manga Publishing
.
The series, containing new material developed in the United States by defunct publisher Now Comics and the
DC Comics' imprint Wildstorm
have been reprinted by
IDW Publishing
with
new stories
recently released by the latter.
Lions Gate has released five DVDs containing the entire run of the original English version of the Speed Racer cartoon. This collection includes:
Volume 1- Episodes 1-11
Volume 2 - Episodes 12-23
Volume 3 – Episodes 24-36
Volume 4 – Episodes 37-44
Volume 5 – Episodes 45-52
Last Updated: Jun 26, 2018 - 9:28