Manga 101 - Part One
By Julie Gray
April 17, 2006 - 20:51
Manga 101 - Part One

A Brief History of Manga

Manga (pronounced Ma-n-ga) is roughly translated in English as 'cartoon' and is the word used to describe Japanese comic books. In book stores around the globe, Manga is also referred to as 'Graphic Novels' and can be found in many bookstores catalogued under this name.

In Japan, millions of pages of Manga are printed each week. The world-wide Manga movement has extended to many countries including Korea (where their version is called 'Man-wha') Malaysia, Australia, New Zealand, and the USA.

So, where and when did Manga begin? A historical look at Manga's humble beginnings takes us way back to 12th century Japan where the very first forms of painting were used to depict satire and comedy in every day life. This trend continued through the centuries particularly through work produced by artists such as Katsushika Hokusai.

Hokusai is particularly famous for his painting 'The Breaking Wave Off Kanagawa' and the 36 landscape paintings of 'Mt Fuji Views'. Amongst his other works, Hokusai also created early forms of Manga.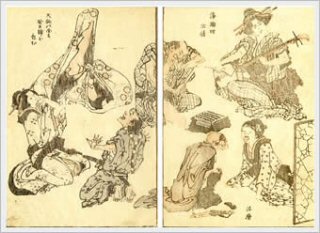 Early Hokusai Manga
Although Manga created back in the 19th century looks a little different in form compared to Manga today, it is easy to see how the basic structure of Manga has been retained. Pictures that tell a story with minimal text are the standard format used for most Manga produced around the world.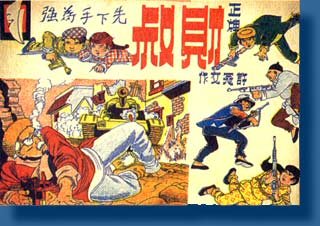 1930's Hong Kong Manga
During the modernisation period of Japan in the 1800's, newspapers and magazines were introduced that published forms of Manga. The art style of Manga has progressively changed since the early 1800's. Artists known as 'Manga-ka' or authors of Manga comics have slowly perfected the art of drawing Manga characters and scenes. Many artists have had their work immortalised in Manga. The late
Tezuka Osamu
was one such artist who was well known in Japan as the
'God of Manga'
because of his influential impact on the way Manga was perceived and acknowledged by the public.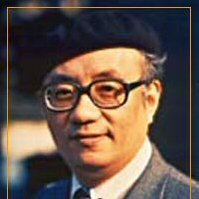 The 'God of Manga' - Tezuka Osamu
Modern Day Manga
Although Manga may have had an historical beginning, it is very much a modern day phenomenon. With sales statistics that total millions of dollars each year, the distribution and selling of Manga has become big business, even outside of Japan.
One of the appealing attributes of Manga is the variety of subjects to choose from. Manga has mistakenly been referred to as a social activity that would only attract teenage boys but Manga is read in Japan by millions of people including women, girls and businessmen alike. If one was to take a look at people catching the train in any of Japan's major train stations for example, it would not be uncommon to see many different people from all walks of life with their heads buried in Manga.
This trend has slowly caught on in many other places around the globe. With distributors and book publishers in the U.S.A distributing Manga to book retailers and comic book stores, many American teens have started to become more and more involved in the 'Manga Craze'. Distributing and selling Manga has become a lucrative business and at standard prices of under $10.00 USD, for the consumer, Manga is an affordable experience.
Unlike other industries in the entertainment sector (like the movies) where prices are rising and the public attendance numbers are dwindling, international Manga sales are showing an upward trend.
Genres of Manga
For the newly initiated Manga devotee, understanding and knowing what Manga is good to read is merely a matter of visiting your local bookstore and hanging around for a few hours in the 'Graphic Novel' section. There you will more than likely find a bevy of different types of book on display. So, with all of this Manga at your fingertips, where would one start? Let's break down some of the different types of Manga and get a better look at what each genre is about:
Shônen Manga
(Shôunen)
Shōnen Manga
is aimed at younger boys (mostly teenagers). The content of the Manga will target its audience with typical storylines and characters that appeal mostly to teenage boys. This doesn't necessarily mean that only teenage boys will enjoy reading Shōnen Manga.
A few of the popular Shōnen Manga titles are;
Bleach,
Yu-gi-oh
and
Death Note.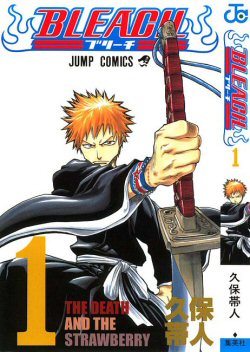 Bleach Manga Cover No 1
Death Note Manga Cover 1
Shōjo Manga
(Shōujo)
Shōjo Manga
is similar to Shōnen Manga except it is targeted at teenage girls. Romantic relationships are usually the subject matter of Shōjo Manga and the characters are drawn in a distinctly 'feminine' style.
Popular Shōjo titles are
Margaret
and
Sailor Moon.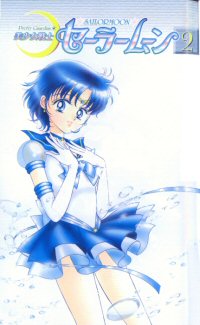 Sailor Moon Manga Cover
Seinen Manga
Seinen Manga
is targeted at 18 – 25 year old males but also appeals to men from older age groups. The subject matter varies considerably from futuristic storylines to pornographic. The art of Seinen Manga also differs in style to that of the previous two types of Manga. Some of the Shōnen titles are quite often categorised as Seinen titles and vice versa.
Popular Seinen titles are
Samurai Champloo,
Berserk,
Gantz
and
Ghost in the Shell.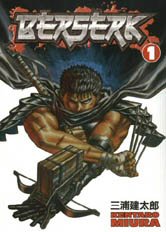 Berserk Manga Cover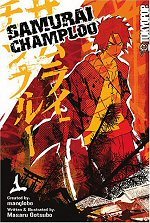 Samurai Champloo Manga Cover
Josei Manga
Josei Manga
can be loosely described as the female equivalent of Seinen Manga. Josei Manga is also the 'big sister' to Shōjo Manga where the subject matter deals with realistic relationships centred on adult females. Josei Manga's readership demographic is older teenage girls and older women.
Some popular Josei Manga titles are
Blue,
River's Edge
and
Happy Mania.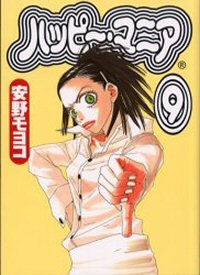 Happy Mania Manga Cover
Ecchi and Hentai Manga
Ecchi
and
Hentai
Manga are probably best referred to as Manga with explicit sexual content. Ecchi tends to be a little more reserved in nature with nudity or partial nudity. Hentai on the other hand is Porn. There are many different forms of Hentai Manga with specific subject matter. Hentai is R18 Manga.
There are also sub-categories of Manga that branch off those we have listed above and other styles of Manga such as
Mecha
which is Manga that features mechanical robots.
It would be impossible to determine which form of Manga is the best to read as part of the enjoyment of reading Manga is being able to find a subject matter that caters to your own personal taste.
The most popular type of Manga to date is
Shōnen
Manga.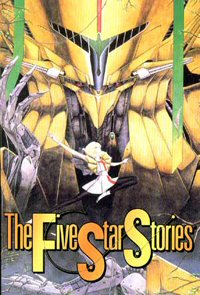 Five Star Stories Mecha Manga
Part Two of 'Manga 101
' covers differences between Manga and Anime, Graphic Novels and Live Action Movies. Also discussed is how to source Manga, Distributors and Publishers, Scanlators, Web Based Manga, Resources and Links.
Last Updated: September 6, 2021 - 08:15