Comics / Manga / Yaoi Manga
Love Control (Yaoi Manga)
By Leroy Douresseaux
Apr 19, 2008 - 8:39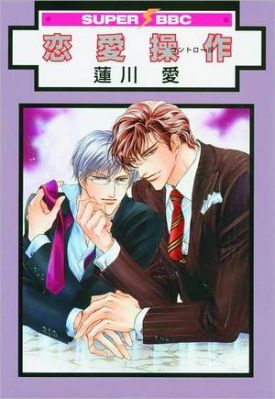 June Manga's edition will maintain the image, but dump the borders.
TRANSLATION: Melanie Schoen
Kei Yamashiro is a talented interior designer for Sugimoto Life Design. He is very much in demand, and takes great pride in his work. Takashi Okumura of the restaurant chain, the Jiri Group, is Kei's latest client, and Okumura wants Yamashiro to redesign their Italian restaurant.
Okumura, a successful business man with a large ego, likes Kei's work on the restaurant so much that he hires the interior designer to change the look of his lavish apartment. Okumura, however, likes more than just Kei's work, and he flirts with him. Kei decides to turn the game around on Okumura. He'll make Okumura love him, but what happens when he's the one that falls for his client? Will Kei's pride let him admit his feelings, and can Okumura temper his ego for his new love?
In an extra story, "Near the Rainbow, and You," two children of absent parents – one abandoned in the past and the other neglected in the present – find friendship and maybe love.
THE LOWDOWN: What makes Love Control, the yaoi manga (a genre that features explicit love between two male characters) by Ai Hasukawa, are the strong-willed leads, Kei and Okumura. It's entertaining to watch Kei struggling to realize that getting all "mushy" about love will not take away his pride. The gently egotistical Okumura swims through this manga like a suave shark on the prowl for young men who need to have their reserved attitudes devoured. Hasukawa is also quite good at drawing beautiful young men who dress in expensive suits and have fluid, wavy hair.
POSSIBLE AUDIENCE: Readers who want to see pretty boys at play, drawn in a beautiful, Patrick Nagel-ish style, will like this.
B+
Last Updated: Jul 11, 2018 - 20:14