Dazzling Imax Imagery with Speed Racer
By Hervé St-Louis
May 11, 2008 - 19:07
Speed Racer, young brother of professional racer Rex Racer, has dreamt of being a race car driver since he was a kid. That's all he cares about. Although the death of older his older brother devastates the Racer family, Speed becomes a races the Mach 5 car, built by his father in order to win races and honour the memory of his brother. But as Speed and his family are about to discover, being racing champions is puts you in the spotlight and makes competitors with evil schemes willing to destroy your family business. Can Speed Racer, his family, his girlfriend Trixie, best friend Sparky and the mysterious Racer X stop the bad guys?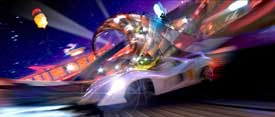 The funny thing about Speed Racer, is that it combines all types of racing, including rally, formula one, and even aspects of drag racing all in one explosive orgy of imagery and storytelling. This is a cardboard family the likes of which we used to read about in 1980s American sitcoms. There's the strong dad, the cheerful and solid mom that glues the family together, the kids and even the family uncle in the form of Sparky. Simple names, simple imagery, simple symbols, all going after one dream, speed racing. Whereas racing is not an American sport per se – even if Nascar exists, this film is all about Americana and good family values and strong small business ethics.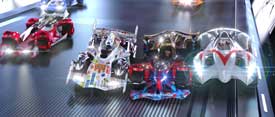 A Japanese cartoon created by Tatsuo Yoshida in 1966, Speed Racer was one of the first animé series translated for the American market. It struck a chord with the public and has appeared in syndication ever since. This movie completely brushes aside the Japanese origin of the property and become more American than original American properties.
After the Matrix trilogy, the Wachowski brothers tackle another epic production. It seems that they are never satisfied with just directing a movie. They have to make it cross across the boundaries of the medium and make it memorable, using a roller coaster and frantic script. In a sense they remind me of Oliver North who travels America trying to redefine every aspect of American society. Here the Wachowski brothers don't really care about redefining current American society or exploring its psyche.
The Wachowski brothers, it seems have a message to tell, a story to define, and it seems that they care more about exploring the future or what life could be if only. I don't want to typecast them as futurists, as I feel that their message is wider than what our possible future can be. Their message may be as simple as pure entertainment expressed with clear lines, and black and white characters fighting odds.
The world of Speed Racer is bright, colourful and oversaturated. The same can be said about the characters' personalities and the situations they face. Speed Racer is brash but pure and honest. Trixie loves him unconditionally. The bad guys are all bad and have no redeeming values.
The story itself is based on a few specific arcs that are easy to identify. Unfortunately, there really isn't any threat for Speed Racer. There's not one moment where one loses faith in his ability to win. Even Speed Racer's father, a fat old man is a world class fighter that can defeat any thug, including ninjas.
Visually, the Imax experience is best way to see Speed Racer. They aren't any special upgrades noticeable from the regular movie, but the movie just looks better and it's easier to feel all the colours and effects. The movie does suffer from what I call the 300 compositing bug. It's too obvious that the characters were filmed on a blue screen and it keeps reminding the viewer that he's watching a film, instead of just enjoying the ride. Considering that the special effects were one of the highlights of this film, it's painful to be reminded that all the backgrounds, the cars and even the people driving the motorized scooters.
Last Updated: Dec 19, 2017 - 22:52