Comics / Spotlight / Progressive Panels
Giving Superman the (Re)Boot
By Andy Frisk
June 10, 2011 - 22:52
During the DC Nation panel at Heroes Con 2010 in Charlotte NC, I expressed my dismay to Ian Sattler, who was DC Comics' Senior Story Editor at the time, that the great supporting cast of characters that were developed for Superman during the brilliant New Krypton storyline were all but abandoned, especially Mon-El. I also referred to New Krypton as being the best single multi-title Superman Family crossover since the Death and Return of Superman, and that the supporting cast of characters from that storyline were still a major part of Superman's supporting cast. I remarked that the way to keep a character like Superman fresh and relevant is to keep his supporting cast fresh and relevant. Sattler remarked that Mon-El was always going to go back into oblivion (basically), and that they did their job in telling a good story because I missed the characters. Fair enough. I just never thought that I would be missing not only Superman's great supporting cast, but the hero himself.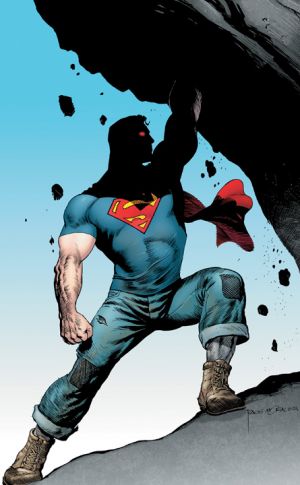 This images makes no sense...
DC Comics has finally released the upcoming cover art to their new line up of Superman Family books, and this 25 year fan of Superman, whose admiration of the greatest superhero ever created, which began in the late 1970s and has run through the waning years of the Silver Age, the Bronze Age, and well into the character's contemporary age, and who has enjoyed every change, tweak, and addition to his story and supporting cast, has today arrived at the point where I fear that my near quarter of a century relationship with the character is about to come to an end, at least as far as the enjoyment of a monthly (and at times weekly) reading of Superman's single issue series goes.
I say this not because I am a "fanboy" who feels slighted that his favorite character's continuity is being trashed (although this "fanboy" will miss it). I also do not say this because I do not like the changes to his costume (which could be easily fixed and actually end up being very appealing with two minor changes). I say this because of these words quoted from the blurb posted on DC Comics' The Source blog in regards to the upcoming first issue of the re-launched
Superman
: "starling new status quo." I also say this because of the terrible damage that is apparently afoot for the character of Supergirl, who now has "the same powers as Superman and none of his affection for the people of Earth."
We don't know what this "startling new status quo" is yet, but it looks like it will translate into "no more Mr. Nice Guy." Herein is the problem. Superman IS the nice guy. Batman is the not so nice guy. Superman is ideal that the heroes of the DCU aspire to. Not an intimidating, angry, red eyed, psychotic, 1990s vengeance hero looking destroyer. The image below of the new Superman is not iconic. It is not cool. It is not heroic. It is not Superman.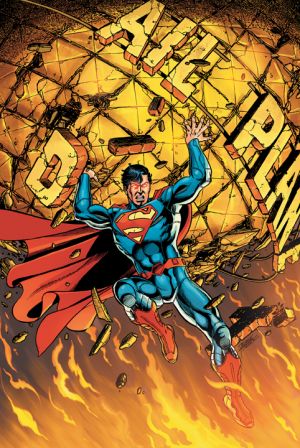 Super-psycho
What is Superman doing in this picture? Burning down Metropolis as he prepares to launch the Daily Planet's long standing version of corporate art upon the crowded streets of Metropolis? He looks like Superboy Prime, the psychotic villain of
Infinite Crisis
. His costume is especially reminiscent of Superboy Prime. Like I stated, I can handle the tweaks to the costume, but the loss of the red trunks and the yellow belt make this Superman nigh unrecognizable as the hero he has been since 1938. Batman didn't get this radical a change to his look. Is this because Batman sells and Superman doesn't? Is this because Superman is a "Boy Scout" and Batman is an "Ass-Kicker?" A character like Superman, possessed of the power that he has, has to be a Boy Scout, otherwise he's a demonic tyrant waiting to happen. Superman is the embodiment of virtue, responsibility, and compassion who, when he faces down evil, can kick much more ass than Batman ever could or would. (No offense Bat-fans, Batman is a great character as well—he and Superman are two sides to the same coin though. They are not mirror images of one another).
It appears these changes are all directed at changing Superman fundamentally, both thematically and ideologically. This is not necessary. Superman, along with his supporting cast of characters (if kept fresh) is dynamic enough to change with the times. This is no longer the 1990s. Sorry, DC Comics (i.e. Geoff Johns, Jim Lee, and Dan Didio), Wolverine is out and Prof. X is in (just see
X-Men: First Class
). In the recently published, brilliant, and "definitive" origin of The Man of Steel,
Superman Secret Origin
, Superman was effectively updated for the 21st Century and his story and mythology were invigorated with a bit of the socially conscious themes that defined and invigorated The X-Men's stories for decades, until the crash of the franchise in the 1990s. Superman became a slightly feared "other" who was still the same "Boy Scout" at heart and in the majority of the public's eye, a la the 1980s and 1990s version of The X-Men (which DC Comics is now so desperately trying to emulate—again the 1990s, great as they were, are over). Lex Luthor was recast as a bigoted and close-minded genius that embodied the very opposite of what Superman represented: tolerance, acceptance, responsibility, and compassion. In short, Superman represents heroism at its finest.
This is how you update Superman's costume.
The fact that Superman met, fell in love with, and married the spirited, morally and ideologically strong, and independent Lois Lane is also a key factor of the definition of his character. The most powerful man in the universe, who can have any woman he wants of any physical ability, fell in love with one of the most beautifully spirited women in the universe, who has no other superpower beyond that of her brilliant and just mind and spirit. This beautiful part of the Superman story, is also now called into doubt with this reboot.
Speaking of the supporting cast, Superman's cousin, who was incredibly well developed, drawn, and written during Sterling Gates and Jamal Igle's
run
into one of DC Comics' most dynamic characters, is being cast even further down than Superman himself. This Supergirl is possessed of "none of his affection for the people of Earth…" Yes, Supergirl, since her proper reincarnation at the hands of Michael Turner, has had her issues with her adopted world, but has grown and developed emotionally through her interaction with Lana Lang and Kal-El, before, during, and after
New Krypton
, (where she regained and promptly lost her father at the hands of bigots), into (once again) one of the most dynamic characters in the DC Comics' catalogue, is now about to become what appears to be the Kryptonian version of a bigot herself. I will not even begin to comment on her ludicrous new costume.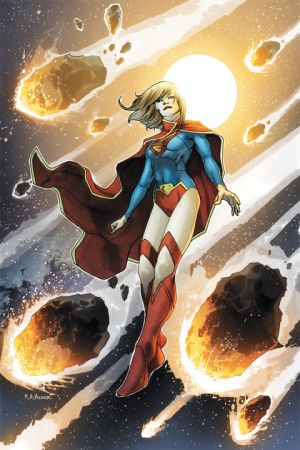 This costume makes no sense...
Superboy, perhaps the best and most long lived character that was birthed out of the classic
Death and Return of Superman
story, is…well…this images says it all. It is also wildly inconsistent with the image of this new Superboy as he appears as part of the new Teen Titans.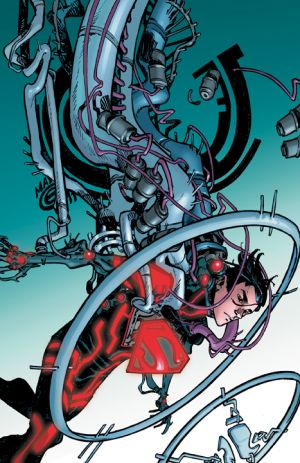 Superboy Reaver
Superman doesn't need to be thematically darkened. Superman doesn't need to be turned into a raging, psychotic looking destroyer. Superman doesn't need to be separated from Lois Lane. Supergirl doesn't need to be turned into a bigot. Superboy doesn't need to be turned into a 1990s looking version of 1990s X-Men villains The Reavers. This Superman, sadly—and unless I'm wildly mistaken with my interpretation of these scant images and words (I pray that I am)—doesn't need to be read. I will try the new books out, but I am afraid to, and might find myself abandoning these new incarnations of these great superheroes indefinitely. Instead of getting rebooted, Superman might just simply get booted.
Last Updated: February 5, 2023 - 09:06