Reboot and the Batman
By Dan Horn
June 6, 2011 - 18:36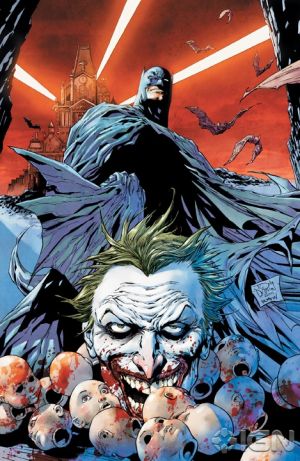 Tony Daniel's cover to Detective Comics #1
Today, DC Comics gave an exclusive announcement to the folks over at IGN (
here
), revealing plans for the flagship titles
Detective Comics
and
Batman
as well as the other Bat-family books in regards to the
Flashpoint
-induced continuity reboot. The communique divulged such details as Tony Daniel and Scott Snyder retaining tenure on the character, though they will be swapping titles, Greg Capullo assuming Jock's position on Snyder's
Batman
, Tomasi and Gleason continuing to helm
Batman and Robin
,
The Dark Knight
restarting under David Finch's ever-punctual guidance, and perhaps
Batwoman
finally seeing the light of day (she needs it, what with that pasty complexion).
Amongst the dizzying dump of disclosure, we've also come to find that Dick Grayson will give up the mantle of Gotham's Batman and presumably return to Bludhaven as an updated
Nightwing
, Barbara Gordon is inexplicably donning the
Batgirl
moniker after twenty years of continuity in a wheel chair, and, straight out of
Batman Incorporated
(which will also see a reboot in 2012), an African Batman,
Batwing
, will be hitting the stands in the coming months.
The more I peruse this IGN report, the more I find something very strange going on here contrary to the "everything must change" machine that has become DC Comics: much of the Batman continuity seems unscathed, aside from the glaring reintroduction of a Barbara Gordon Batgirl. Though Dick is adopting his old digs, his time as Batman is remaining a large part of his legacy, meaning Bruce is still only recently back from his weird, cosmic, Morrison-thingy. Damian Wayne is still Bruce's son as well as his Robin, and it appears as though things are business as usual for books like
Batwoman
and
The Dark Knight
, leading me to think that perhaps their ridiculous delays previously may have been an attempt to stall for the big #1 frenzy August and September of this year are sure to become. Reportedly, Finch won't even be wrapping up his first arc of
The Dark Knight
in light of the revamp. If that doesn't make readers patiently awaiting the conclusion of that story feel a bit hoodwinked, then I'm not sure what will.
Certainly Snyder's continuation on the character has me beaming, but I'm almost astonished Daniel is resuming his duties. If any Bat-book felt stagnant, it was
Batman
, by a long shot. Also I feel like the reincorporation of Barbara Gordon as an unimpaired crime-fighter takes away a lot of individuality from her character. For decades, she's stood as a defiant symbol of diversity, a champion for the disabled. I hate for this to come across as morose, but it will be tragic for her to lose that enduring testament of bravery. What was wrong with Bryan Q. Miller's
Batgirl
, anyway? It was fun, dynamic, heartfelt. C'est la vie.
Anyway, the absence of any substantial change to Batman's status quo really substantiates many notions about this "retcon" merely being a marketing ploy. I mean, where the hell is this reboot we've been hearing so much about? Not that I was looking forward to it by any means, but perhaps I'd finally made peace with the possibility of my favorite DC character, Batman, being raped of his history. Is Batman the only character who won't see significant changes after
Flashpoint
? In any case, #1's mean new readers, whether it's a legitimate reset or simply a contrivance of greed, issue numbering be damned.
Last Updated: March 10, 2022 - 22:00