Comics / Spotlight / Progressive Panels
Supergirl #53: Gates and Igle's Iconic Run
By Andy Frisk
July 3, 2010 - 00:09
The War of the Supermen had a devastating affect on many of the DCU's residents, but it is Kara Zor-El who at once gained and lost the most over the entire course of the New Krypton saga. Kara regained her family only to lose both of her parents tragically. She regained her best friend, again only to lose her tragically as well. Her home world, reborn as New Krypton, was destroyed by Gen. Lane through Reactron, whom Kara retrieved from Earth for her mother (Reactron murdered Kara's father in the early stages of the New Krypton storyline). Kara therefore blames herself for the destruction of New Krypton. Is it no wonder then, now that Kara has moved back in with Lana Lang (her friend and mentor), that Kara wishes to fully immerse herself in the role of immigrant (a metaphor for which Superman himself is the greatest example of in the realm of sequential art literature) and give up her Kryptonian name and identity as Supergirl? Can she give up who she is along with her heritage though? Could anyone? More importantly, should she? It's themes like these, explored by Supergirl writer Sterling Gates and penciled by the incomparable Jamal Igle, that keeps Supergirl at the forefront of DC Comics' line of superhero books in thematic and visual appeal, and makes Supergirl (under the direction of Gates and Igle) one of the best, if not the best, mainstream superhero reads.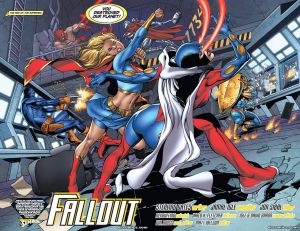 Kara's been having nightmares. She relives the war between Earth and New Krypton, as well as the death of her parents, frequently while in the realm of dreams. She's lost nearly everything relating to her Kryptonian heritage with the exception of her cousin Kal-El (Superman) and her relationship with Lana. Her reaction to all of the recent traumas in her life is to give up everything that has to do with her Kryptonian heritage, including her identity as Supergirl. Kara feels responsible for the many recent deaths she's witnessed and feels that her being Supergirl does nothing but cause harm to those around her. This decision of hers is characteristic of a young adult who's dealing with major mature adult difficulties, consequences, and responsibilities. She wants to simply change everything and start over, leaving behind all that she was. She cannot do this though, literally. She may want to immerse herself in the role of the immigrant with a blank slate, but she cannot simply wipe away her gifts and the abilities that her Kryptonian heritage bestows upon her. Her portrayal is metaphoric of the immigrant experience in the extreme, and especially the experience of the immigrant in a hostile environment. Kara is lucky though, she has a friend and mentor that won't allow her to turn her back on her gifts. Kara is capable of doing great good and Lana isn't going to stand by while Kara "wallows in self pity and guilt" while people need her. Kara will have to make a choice. A choice not just between whether or not to be Supergirl, but whether or not to embrace the best aspects of her heritage and combine them with her new life as an immigrant to Earth.
Writer Sterling Gates' decision to introduce a Bizzaro Supergirl into Kara's life with which to contend is a great stroke of storytelling genius. Many times a young adult will rebel or at least fail to take to heart the advice of a parent or mentor, but when confronted with a distorted image of themselves, which Bizzaro Supergirl is literally and figuratively for Kara, their reaction is often quite different. In a strange way, Bizzaro Supergirl just might end up being the only peer that Kara will have right now with which to measure herself by and therefore redefine her vision of herself by. Strange as it sounds, this really could be the case. Gates continues to write and develop a very well defined yet dynamic character in Kara, and we amazingly might still be in for the best stories involving her yet. For the past year, Kara has been a part of a huge cast of characters (while remaining very interesting and noteworthy one nonetheless out of this cast), and now with New Krypton history, Gates looks to settle down and focus on Kara's development again. By adding the difficult theme of being an outsider and someone who views themselves as an immigrant in a world where she is now feared and misunderstood (a plight many immigrants and young people face), Gates deepens and enriches an already very realistic and compelling character.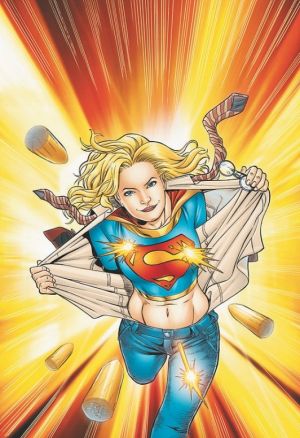 Long term series penciller Jamal Igle brings Gates' script to life flawlessly. His command of facial expressions, body language, anatomy, background, fight choreography, and displays of kinetic action are simply masterful and are on full display in every issue of Supergirl he pencils. I've stated this before, and will again: Michael Turner defined Supergirl's look for the 21st Century, but it is Jamal Igle who has solidified her look and taken it to the next level. It's really great to get to see Igle pencil some of this issue's supporting cast such as Dr. Light and Gangbuster (who hopefully has found a permanent home as a supporting cast member in Supergirl). If there is any question as to the power of Igle's visual command of the character of Supergirl, one need look no further than the iconic and character defining cover to Supergirl #53. I was incredibly lucky enough to be able to purchase a print of this cover from Mr. Igle at Heroes Con 2010 and get his autograph on it. It's now a prized piece in my original and signed artwork collection. Like John Byrne's cover to The Man of Steel #1 (1986), Dan Jurgens and Brett Breeding's cover to Superman Vol. 2 #75 (1992), and Michael Turner's cover to Supergirl #1 (2005), Jamal Igle's cover to Supergirl #53 will stand the test of time as one of the Superman Family of books' most recognizable and iconic covers ever.
So, yes Supergirl is not only one of DC Comics' best superhero books, it is one of mainstream comics' best superhero books. It has top quality art and superb writing, but most of all it has depth. I've said this before as well: I never though that I'd be hooked on a book about a teenaged superhero (even if she is my favorite superhero of all time's cousin), but Gates and Igle have proven that with great art and storytelling even the potentially weakest of characters can be transformed into the best of characters.

Rating: 10 /10
Last Updated: February 5, 2023 - 09:06