DC Reboot: The Dark Side
By Andy Frisk
June 7, 2011 - 16:50
You knew it was going to happen. With the reintroduction of Swamp Thing to the DCU proper at the end of Brightest Day, and the appearance of John Constantine in the same issue as well, two of the DCU's premier supernatural/horror based characters are now officially part of the new post-Flashpoint DCU and leaving Vertigo behind. In fact, Constantine is joining up with Madame Xanadu (another Vertigo vet), Shade The Changing Man (yet another Vertigo vet), and Deadman (not quite a Vertigo vet--even though he was test run there a few years ago) to form Justice League Dark. Justice League Dark looks to be the DCU's answer to the late (and quite good) Shadowpact book and concept. Calling these heroes "Justice League Dark" simply makes them more marketable. Honestly though, for the first time since this whole reboot thing was announced, I'm actually interested in one of the newly announced titles. Even though I totally disagree with their recent Vertigo demise (from an artistic standpoint), these are good characters who deserve to be more widely read. So I guess I'm going to take the middle road here and wait and see what happens...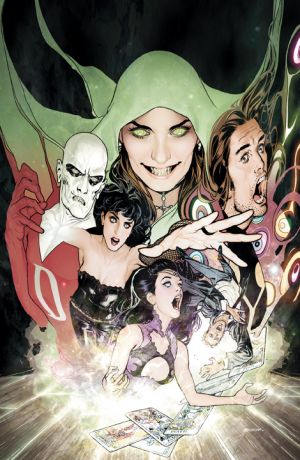 The best news on
Justice League Dark
is that the series will be written by Peter Milligan. If these characters, especially Constantine and Xanadu, have to exist in the mainstream DCU alongside Superman, Batman, and Robin now, at least they are going to be written as such by one of DC Comics' best tenured writers. Milligan has been doing a brilliant job on Constantine's main title,
Hellblazer
and gifted us with the equally brilliant, albeit short lived,
Greek Street
. Hopefully, Milligan will be allowed to incorporate some of the DCU's other great magic based heroes. I really want to see Zatanna, The Spectre, Zauriel, and other
Shadowpact
vets show up in these pages. How Milligan handles a team book where the most non-team player character in the DCU, Constantine, plays a major role will be interesting to say the least. Something tells me though that the glory (and gory) days of the Vertigo incarnation of Constantine might be behind us...
Along with announcing
Justice League Dark
, DC Comics (via
The Source
) also announced a slew of other supernatural based titles that will be based in the mainstream post-
Flashpoint
universe. The titles include:
Swamp Thing
(penned by Scott Snyder--his involvement is good news for this title),
Animal Man
(penned by Jeff Lemire--possibly good--at least Grant Morrison isn't writing it),
Demon Knights
(which stars The Demon and is set in the Middle Ages--written by Paul Cornell--this looks like the weakest of the bunch),
Frankenstein, Agent of SHADE
(also by Lemire--all I can muster on this one is...meh...),
Resurrection Man
(by Dan Abnett--I know nothing about this character),
Voodoo
(by Ron Marz--again I know nothing about this character), and finally
I, Vampire
(by Josh Fialkov).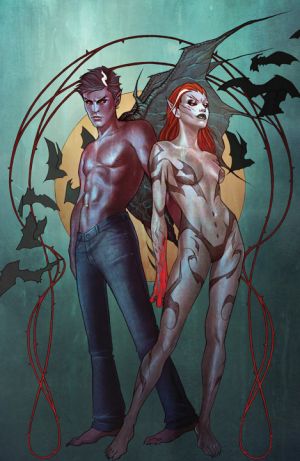 Will Bennett's contract state he needs to go topless?
I, Vampire
was a pretty well written serialized storyline published back in the early 1980s in the pages of
House of Mystery
. Andrew Bennett, the vampire of
I, Vampire
, battled not only other undead creatures like himself, but took on various other lowlifes like drug dealers, and got himself mixed up in some pretty interesting social commentary along the way. It's a good thing that Bennett is coming back, but it's a bad thing that the main reason he is coming back is because of the
Twilight
craze. In fact, as seen in the cover art below, Bennett is less
Dark Shadows
Ben Cross and way more glittery Robert Pattinson in appearance. It will be a huge detriment to
I, Vampire
if this book turns out to be yet another
Twilight
knock off or slow starter like
Simon Dark
was.
Finally,
Demon Knights
looks to be the one to definitely skip here. The Demon, another one of Jack Kirby's great characters, whom I've been wanting to see back in print for some time, has his origin in the Middle Ages, but a series set then will just keep him from gaining traction in the new world of the DCU's supernatural superheroes. He's cut off from the rest and won't be worth the time reading (like the rest of DC Comics' books until the reboot takes place in September are?). The Demon needs to be running around bashing horns with the modern denizens of the DCU.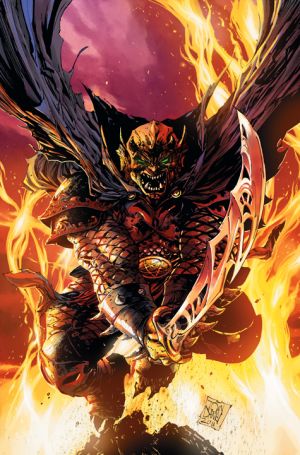 This whole event, or whatever DC Comics' will be calling it, still looks like a dangerous gamble, but for the first time they're showing us a few books that might be worth checking out. I will not even be the slightest bit excited or willing to stay with DC Comics after this reboot takes place until I see what's in store for Superman though. They've been extremely quiet thus far on there signature superhero. Hopefully, this means that the fans have spoken and the costume is being redesigned back to the more traditional look. DC Comics' fans got Wonder Woman's ill fated TV pilot's costume fixed by being vocal about it, hopefully we Superman fans are having the same affect here. Seriously, if you're reading DiDio, you're going to lose this lifelong Superman fan if the costume isn't fixed, i.e. get rid of the collar, bring back the red trunks, and fix the S Shield. I know I'm just one voice, but I speak for a great deal of us...and I have a platform. Otherwise, kudos DC Comics, you've piqued my interest...while giving me more to scorn about this reboot at the same time. I'm not about to "Make Mine Marvel" again...yet.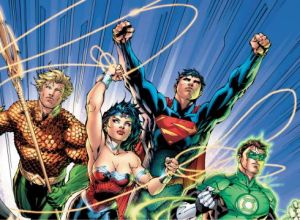 Fix Superman's costume! Get rid of collar, change the S Shield back, and bring back the red trunks!
Last Updated: August 31, 2023 - 08:12