Comics / Spotlight / Knowledge and Scholarship
Business Plan 101 for Comic Book Publishers - The Marketing Mix
By Hervé St-Louis
July 4, 2008 - 22:16
In the previous article, I discussed the basics of a business plan as it relates to a comic book publisher. I believe business plans are essential for every business venture, especially comic books. The business plan helps format your mind and communicate to stakeholders that are not familiar with comic books, like bankers and family providing love money financing. It's been over two years since I wrote the first part of this article. I had promised the complete description of a business plan but obviously, it takes a little more efforts. I'll focus on smaller chunks which will allow me to complete this series of articles faster and deliver something to all that have asked for more.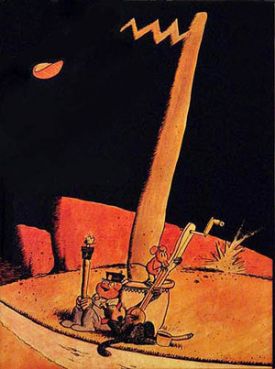 Krazy Kats
The marketing mix is one of these formulae marketing professors invented years ago to help businesses remember to market their products, once they have manufactured them. Over a century ago, companies selling products relied on something called the "product approach" to selling products. The product approach was relatively easy for vendors. One created the product, and waited for customers to purchase.
Later as competition increased, and the clientèle became more informed, a stronger sales approach was used to push products out of the door. Selling products was enough, but only for a while. Using marketing to sell products goes beyond. Vendors and marketers look at several variables to best plan their marketing campaigns. A marketing campaign is like a mini business plan focused on the four Ps. These Ps are products, price, place and promotions. Some experts like to add additional Ps for public relations and people.
Public relations are a subset of marketing but are not related to sales. Many comic book publishers confuse public relations, marketing and sales. A way lazy people can call these three different fields is business development. I personally hate dumping everything in business development as it trivializes the work involved.
Public relations are about managing the identity of a company, how people perceive your products and your corporate culture. It is not about plugging your latest comic book series like a sales pitch. Most press releases I receive at the Comic Book Bin are sales pitches. They do nothing to try to influence me as an editor to perceive the publisher in a different light.
Plugging your products is closer to sales and again, sales are not about marketing. Marketing is the corporate art of understanding how to position your products in the minds of potential customers, understanding what motivates them to purchase and then, enabling effective promotions based on market data gathered prior. It is again not about "forcing" people to buy your products.
Sales, is about drumming up business. As you can see, market research, advertising and public relations are not directly involved in direct business acquisition.
The sixth potential P, is about the people who are involved in the making the product – or something more akin to understanding how your human resources affect your ability to sell your comic books. However, there is a better place in the business plan to discuss human resources, than the marketing plan. For now, let's limit our discussion of the four Ps to the traditional elements.
1-Products
Understanding your product and how it will fare in the market place is important. Is your comic book part of a line of comic books that covers the need of 6 to 12-year-old readers or are you instead marketing a product which has a highly specialized audience, like revisionist comic books about 1940s comic book characters that attract a specialized audience that like those historical characters? Because no product exists on its own it's important to understand how your product is positioned next to the rest of the market you are entering.
Fail to position your comic book in the minds of potential readers and you will not stand out. For example, in the early 1990s, there were many super hero universes that vied for the audience usually interested in Marvel and DC Comics' products.
Dark Horse Comics
, Image Comics, Malibu Comics,
Valiant Comics
all came up with new universes and flooded the market with their products. At the same time,
DC Comics
introduced new universes to compete with its own product line, like Impact Comics, licensed from
Archie Comics
super heroes, thus cannibalizing itself. I would argue that Malibu Comics and Image Comics had no differentiating elements from standard Marvel Comics and DC Comics published at the time. There were even created by the same creators. Yet Image Comics succeeded in differentiating their products, not on what was inside of the comic book – therefore, strictly the product, but on who made them, the renegade promising artists from Marvel Comics. Although from a pure product line evaluation, the Wild Cats were nothing but
X-Men
clones, creator Jim Lee succeeded in differentiating his product from its inspiration.
On the other hand, companies like Valiant Comics and Dark Horse Comics focused on creating a product that was quite distinct from the regular offerings. For example, all Valiant Comics had the same house style where they were similar in look because of standardized pencilling, inking, storytelling and colouring.
2-Price
Price is rarely used as a way to differentiate comic books but remains an important element of your marketing mix. Monthly floppy comic books are often priced at cheaper price points than soft cover compilations and hardcover editions of comic books. Beyond the physical appearance of a comic book, differentiation can also appear when dealing with online comic books. How much a product is priced determines how accessible it will be to your given audience. If you are marketing a compilation of material from a 1950s cartoonist from rare newspaper clippings, on high grade paper and offset printing, one way of signalling that this product is precious and valuable, is to price it at a higher price. Automatically, the value perceived by readers will, in theory be that the product deserves the higher price point.
Similarly, when DC Comics released
DC Universe #0
at 50 cents, the perception of readers could easily have been that the product was not worth much. Had this product being sold at a similar price point as equivalent comic books, readers may have had a more positive view of the value of this comic book. Of course, DC Comics' strategy was not to market
DC Universe #0
as a cheap and valueless product. The price reduction was created solely to make it easier for readers to approach the new book without hesitations.
3-Place
Place relates to how the product is distributed, where can consumers purchase it? For many comic book publishers, distribution through Diamond Comics is the only alternative they will consider to reach their targeted audience. If your book is available through Diamond Comics, then the targeted audience you are targeting will be different than one available from bookstore chain.
4-Promotions
Promotions here relates to the efforts to sell your products. For example, offering a discount to comic book readers that purchase two books published by your company is a way to increase sales directly but also increasing the exposure of your products.
In the next article, we'll look at the marketing plan closer and how it relates to the marketing mix presented above.
Last Updated: January 24, 2022 - 11:00