Comics / Spotlight / Knowledge and Scholarship
Business Plan 101 for Comic Book Publishers - Exit Strategies?
By Hervé St-Louis
August 30, 2008 - 12:11
In the first article in this series, we looked briefly at the business plan and why it was necessary. We also looked at the executive summary, products, and the market. In the second article, we looked at the marketing mix. In this article, we will look at the next element required in your business plan, the marketing plan.
Many people use the terms marketing plan and business plan interchangeably. However, although quite related, these two types of plans are different. The marketing plan is a component of the business plan. It covers a smaller area of information than the business plan. However, the depth of coverage is deeper. As its name suggests, the marketing plan is concerned only with marketing and promotion. For example, one would not find financial information in a marketing plan.
The marketing plan builds upon the information the promoter has first identified in the product and the market part of the business plan. In your marketing plan, you are expected to interpret the raw data gathered about the market place and explain how your product fits that market. For example, if you have identified that there is a potential market for children aged three to five learning to read, you have to explain the strategy you will use to reach that market. Your plan has to be concrete and provide specific and detailed information to the readers.
Your strategy is how your banker and other investors will evaluate your ability to pursue your targeted market and succeed. For example, you could be interested in publishing another comic book super hero universe while many would argue that this market is saturated and that entry is difficult because of the strong branding strategy of existing publishers. Thus, your potential reach in this market could be evaluated at less than 1% of the current potential market of super hero comic books sold in the direct market through Diamond Comics, the exclusive distributor of most comic book publishers. However, if you can prove in your marketing plan that you have a successful strategy and plan to effectively release new products in this crowded and competitive market, readers of your business plan may trust you enough with their money, while asking several tough questions.
Again, I have to repeat that your marketing plan, and your business plan, is not to highlight the contents of your books, but to show how good of a businessman you are. So if your marketing plan is based on claims that you have created the next Superman or Spawn, to me you are not worthy of being trusted with my investment money. What any investor and I really care about is how you will make sure your presence in the market makes the title character of your comic book the potential next Superman. But whereas you might think a cool concept is the key. The only criterion used by your investors is how much money and units you sell.
I have to add another warning about a strategy used by many comic book publishers that according to my business instinct is not sound, although it seems solid on paper and has been used by many publishers in North America and even some in Europe. Some comic book publishers bank their success on a quick exit strategy based on the licensing of their comic book properties and an eventual sale of the film rights to Hollywood. The thinking goes, that if they can publish just enough issues of Super Warrior Man from Saturn, whether they profit or not, that they can show that their property is viable and suitable for adaptation as a licensing product and a film.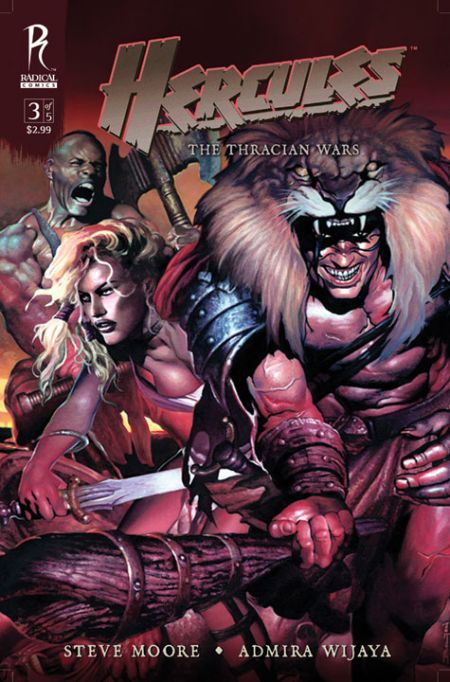 I strongly advise against this strategy. First, let me explain what an exit strategy is. An exit strategy is a way a promoter gets out of trouble just in time to avoid losing money or having to cancel his project, or seeing it fail. Other sources will use more elaborate term for an exit strategy but I prefer to tell it like it is. An exit strategy means you take just enough risks so that someone with a bigger pocket book picks up your projects and company and makes the investment required – one hope – to make your project a success.
It's implied that the larger business entity doesn't mind the risk that you represent and will gladly pay you a fortune for your products and company. In the Internet world, there are many companies with similar exit strategies. MySpace, Facebook, and much of the Web 2.0 bubble is based on similar plans. Fox Interactive Media rescued MySpace. While Facebook is still independent, Microsoft backs it. Google purchased Youtube. Closer to home, larger media groups also purchased entertainment portals IGN.com and UGO.com.
The problem with an exit strategy mindset is that you do not try to be viable on your own. You try to be viable just enough – keeping your head above the water – until a good Samaritan with a large cheque book can pay you for taking a risk. As it stands, MySpace,
Facebook
and Youtube have difficulties earning income through their various advertising models. Sure, they have lots of users and visitors. But if you stick to the basics, before they had angels rescuing them, they had little money coming in, safe for investor capital. Companies cannot be based entirely on investor capital. Companies have to generate income through sales. For me this is the main requirement of a solid and viable company. I strongly discourage basing your business plan and success strategy on an exit scenario.
Specific examples of companies with exit scenarios in the comic book world would be Radical Publishing.
Radical Publishing
is clear about its intent of making comic books whose movie rights, Hollywood studios will purchase and transform into film features. The problem with Radical Publishing is that meanwhile, their comic book sales are not spectacular. Instead of paying their bills with the money coming from comic book readers buying their Hercules comic book every month, it is quite probable that investors are footing the bills, while marginal sales of the books are not considered the standard upon which the viability of the publisher is evaluated.
At the other end of the spectrum and a company I very much respect is Archie Comics.
Archie Comics
, whether you enjoy their material or not earns most of its income through the comic books purchased by millions of readers in North America and other places, as translated versions, every month. Whether Archie Comics can license yet another
Sabrina the Teenage Witch
or
Josie and the Pussy Cats
film or cartoon series to a Hollywood production studio is irrelevant in their bottom line. The money from such deals is extra income that is not necessary for the publisher to survive or thrive.
If there is one thing that you remember from this article, please remember not to base your marketing plan on an exit strategy. A movie deal might sound sexy, but having a comic book that sells each issue and returns enough profit for you to pay your staff and enjoy a good vacation in Hawaii every year, is a safer and sounder business model than banking your future on some possible deal that may or may never come down the line.
Thus a strong and excellent marketing plan is one of the step that allow publishers to makes sure that their products generate enough sales to pay for their expenses and provide them with profits. A strong marketing plan also goes against the exit strategy mindset in that you have to prove and make sure you can sell your products, as opposed to just releasing them in the market while you shop around for someone to buy your film rights.
2-Promoting Your Products
Here, you must explain how you promote your products. How will your target market learn of Super Warrior Man from Saturn? One vital element that publishers must understand about promotions is that they need to do a lot to generate, but the smallest results. For example,
Image Comics
does very little promotion of its comic books. Although the publisher is well known in the industry, the amount of times a potential customer hears about their products versus the number of times they hear about the Image Comics founders is disproportional. Potential clients need to hear about your products more than once and from different places and channels.
There is an old saying in the print magazine industry that says that one needs to see an advertisement at least six times before one remembers it. I will vouch for that. Although I am the publisher of
The Comic Book Bin
and receive news from all quarters of the industry on a daily basis, much of it I don't remember or recall because there is so much going on. Often, you will find that you will have to knock at people's door and request interviews every two weeks, before they finally remember that you exist and give you the time of day. It is not meant to be an insult. And if you are discouraged about being ignored, you are not suited for the hard knocks world of sales and promotion. Ignore those defeats and continue to trumpet your message. Safe from having a direct endorsement from Neil Gaiman reported by all press outlets in North America, you will have to push your products and make sure people know about them all the time.
Thus you need several arrows in your quiver to reach your targets. I suggest a minimum of three promotional strategies. Remember, promotion is different than sales and public relations.
One promotion could be targeted at the venues where your comic books will be sold. Maybe you have a plan to reach out to retailers to encourage them to order your products.
A second plan is to offer in store promotional items like flyers and posters that retailers can hand out to potential readers. You could even try to get your flyers inside, say all Dark Horse Comics for the month of October, if you could make the business case and had the proper budget. I'm pretty sure they would agree if they could make money from this.
A third plan has to do with advertising in the media. Web sites like
The Comic Book Bin
offer a variety of advertising avenues. About advertising, make sure that it's not the number, but the reach that matters. For example, many people prefer to purchase advertisements on Web sites like
Comic Book Resources
and
Newsarama
instead of
The Comic Book Bin
. They argue that because the former have a larger audience, that this is better value for their bucks. What they seem to ignore and what
Comic Book Resources
and
Newsarama
don't tell you is that their advertising inventory is so huge, that it creates ad blindness with their users. A new campaign at
The Comic Book Bin
probably stands out more because they are fewer advertising barrage on the site.
The other problem with advertising at a place like
Newsarama
and
Comic Book Resources
is that perhaps, your target is not right. Visitors at
Newsarama
and
Comic Book Resources
are probably more interested in comic books published by DC Comics and Marvel Comics. These are the same guys who turn angry when you make Green Lantern black or Colossus gay. They don't welcome change. Why then would you advertise to conservative customers that do not want to see anything in their comic book change or even try something like manga or from Fantagraphics Books?
The third problem with advertising at Web sites like
Newsarama
and
Comic Book Resources
, is that while their numbers are huge, much of that traffic comes from the same regular visitor. While I did mention that a potential customer had to be exposed several times to products, before he remembers it and eventually, buys it, those promotion channels must be different. You must attack potential customers from different angles and places. Someone who logs in everyday at
Newsarama
and
Comic Book Resources
is effectively blind to most advertisement thrown at them. Perhaps if that advertisement were seen in other venues, like
The Comic Book Bin
, it would help them remember what they saw earlier at
Newsarama
.
You may have found that the above was a knee-jerk attack on the competition of
The Comic Book Bin
. You may find this a cheap attempt at getting us a bigger part of the advertising budget of publishers. If you have any qualms about what I just wrote above, then you are not ready to promote your comic book and should let someone else do that for you. Do not be ashamed of promoting your comic books and reaching out to people, even if you face rejection. As the author of this article, I may face criticisms for blatantly promoting our Web site as a great advertising venue for comic book publishers in an article geared towards helping them write business plans. My take is that I should do more of that to better promote my business –
The Comic Book Bin
. If I did enough of that, a lot more people would advertise here.
This is the essence of promotion. I believe in
The Comic Book Bin
as a venue for publishers to advertise their comic books series and I just told you why. I am not ashamed of letting you know that that I am open for business. I am clear about my intents and what I want. Are you?
When that customer or retailer sees that advertisement of yours, will they know exactly what you promise them? Will they jump ahead and order your books? One thing I have left out in my pitch above was a call to action; something that would force you to buy advertising from me on the spot. Something like
"mention this article and pay only $50 for a 428 x 60 banner in the Comics section of The Comic Book Bin for a month."
I wrote a call to action above and will honour it if you mention this article to me in an email or through a phone conversation before October 1st 2008.
The call to action forces the person viewing the promotional material to make a decision quickly. A promotion is only effective if it raises the need of a person and makes them act on it. A promotion is somewhat different from general advertising in that you are using specific enticements to get a results that is limited. I could advertise that
The Comic Book Bin
accepts advertising. But I can also advertise about this new deal I just created while writing this article for publishers like you and for a limited time only.
This article is long enough and there is a lot more that needs to be covered in the marketing plan. I will have to cut it short and return with the other half about the marketing plan in another article. I had not planned on discussing the exit strategy, but in hindsight, it is very important to understand business culture and how to separate it from less successful models of value and riches' generation.
As usual, please send me your comments about this series of articles. I have received a few that asked for examples that are more specific for smaller publishers. I'll try to add as much as possible when feasible, but do remember that very narrow examples are not always suitable to a varied audience. This series of articles is not meant to replace your own research and writing of a business plan. It is meant to inspire you and inform you. Now if you do
contact me directly
, don't forget to take me up on my advertising promotion!
Last Updated: January 24, 2022 - 11:00