DC Comics - A History, Part 1
By Philip Schweier
March 27, 2007 - 17:20
DC Comics is home to some of the most popular comic book characters, such as Superman and Batman. The company generates millions of dollars every year not only in publishing, but also in ancillary agreements, putting its characters' likenesses on everything from t-shirts and toys to bowling balls and cereal boxes. But every great journey begins with a few small steps.


Secret Origins


Harry Donenfeld
The history of the company we know today as DC Comics begins with Harry Donenfeld. His three older brothers – Charlie, Mike and Irving – operated Martin Press, a small printing house around the time of WorldWar I. It turned a modest profit printing single sheet flyers and advertising posters for a predominantly Jewish clientele.
Harry joined the firm when his New Jersey clothing store failed in the early 1920s. While perhaps having aspirations of being a big name in business, Harry lacked a practical approach; ledgers and accounting bored him. However, he enjoyed a reputation as a "schmoozer," establishing contacts and cultivating relationships – some perhaps less reputable than others. Some printing jobs were reputedly at the behest of corrupt public officials interested in swaying, if not directly controlling, local elections.
Following the Great War, there was a growing demand for magazines. New technology made production and distribution more economical than ever. Many were printed on inexpensive newsprint in the cheap pulp format, and featured stories from novice writers, such as former army major Malcolm Wheeler-Nicholson, whose tales of adventure in far-off lands rang with the tone of authenticity. For a dime, a reader could enjoy extraordinary stories of adventure and fantasy, packaged to suit individual tastes, between colorful, often lurid, covers.
As the magazine business continued to grow during the 1920s, Donenfeld's influence on his brothers' printing business enabled the company to gain first a toe-hold, then a corner of the booming industry. During this time, Harry drove his brothers out of the company. Assuming control, he renamed it Donny Press, one of it's many incarnations in its struggle to survive.
As with other enterprises, the magazine business was a never-ending battle for shipping, distribution and marketshare, often waged by organized crime. Printing and trucking unions made the industry ripe for mob infiltration, and the shipping end of the business offered a convenient cover for bootlegging. Thanks to underworld connections, "shmooshes," or sex pulps, published by Donenfeld were often made available to the public in the same manner as bootleg hooch and illegal narcotics.
At the advent of the Great Depression, many American citizens blamed their economic troubles on corruption among civic, state and national leaders. Growing national reform removed crooked politicians from office and swept organized crime figures from power. Some entered more legitimate work. Donenfeld, having remained a distant observer through the heyday of the gangster era, sought new avenues for his publishing company. He was aided in these efforts by a former union accountant named Jack Liebowitz. Together, they established the Independent News Company, a magazine distributor.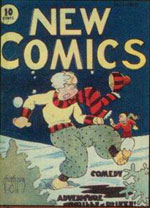 Wheeler-Nicholson's New Comics
As the 1930s ensued, heroes grew in popularity. Radio gave rise to the Lone Ranger, pulps introduced Doc Savage, and newspapers enjoyed the success of Flash Gordon. Daily newspaper strips were being reprinted in 64-page magazines, packaging whole weeks of
Dick Tracy
or
the Phantom
in a more cohesive story format.
When Wheeler-Nicholson discovered the daily funnies being reprinted in magazine form, he saw an opportunity to take an idea with legs one step further. His theory was that licensing comic strips from the newspapers eroded potential profits. By introducing original stories and characters – material that his company would own – it improved the bottom line. In 1934, he launched National Allied Publications, and
New Fun
, a comic magazine, arrived on newsstands in February 1935. However, an uneven publishing schedule, false starts and increasing debts led to the company being taken over by one of Wheeler-Nicholson's creditors, Donenfeld and Liebowitz's Independent News.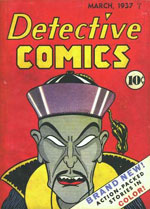 Detective Comics, from which the company would take its name
Liebowitz made up for Donenfeld's lack of business accumen. Together, the trio eventually launched a new title,
Detective Comics
, and after years of gestation, Detective Comics Inc. was born. However, it would be decades before the name DC Comics was made official.
Superman Family
The company continued to struggle, and Wheeler-Nicholson left, by some reports forced out. Donenfeld and Liebowitz remained, purchasing the remains of Nicholson's National Allied company. With the help of editors Whitney Ellsworth and Vin Sullivan, the company was about to launch a new title,
Action Comics
, and content was needed.
Superman, destined to become the company's most successful property, was the brainchild of two teen-age science fiction fans from Cleveland, writer Jerry Siegel and artist Joe Shuster. His roots begin in 1933 when the two boys published "Reign of the Superman," in Science Fiction, a magazine they produced using a school mimeograph machine. Though initially the bald dictator of a totalitarian society, their basic concept as it later became known was aided and abetted by concepts they borrowed from other sources, among them Philip Wylie's pulp novel
Gladiator
and the story of Moses.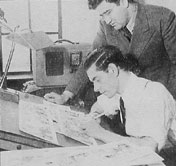 Jerry Siegel (standing) with Superman artist and co-creator Joe Shuster
Legend has it that late one night Siegel lay in bed, fragments of what would eventually become the Superman mythos coalesced in his mind. By morning, he had a solid grasp of the character, racing his way to the Shuster home to share his creative gem with his partner. Even though they had previously sold their private-eye character Slam Bradley to Detective Comics, the boys intended Superman as a newspaper strip, but constant rejection proved discouraging
The material was in the office of Sheldon Mayer, an editor at the McClure Syndicate, when Liebowitz called in search of material for the first issue of
Action Comics
. Mayer had been unable to convince his bosses of the strip's potential, so he passed it along to editor Vin Sullivan. While perhaps not Sullivan's first choice, it had the benefit of being completed and ready for publication, other than reformatting the horizontal panels into a comic book page.
For $130, Siegel and Shuster signed away the rights to their creation.
Action Comics
#1 debuted in June, 1938, and was an instant hit. Superman wouldn't appear on the cover again until #7, but by then he'd proved his popularity, enough so to launch his own title a year later. The two young men were assigned the arduous task of producing material to fill both books, as well as the daily newspaper strip that followed. They were paid handsomely, but the cash machine that was Superman was owned by someone else, and they were merely employees.
In the years to come, the Man of Steel would successfully be featured in radio, animation, books, serials, television, and feature films, as well as being one of the most recognized literary characters in history. Supporting characters, such as Lois Lane, Jimmy Olsen, Supergirl and Superboy, would also star in their own long-running series.
Shortly after the launch of Action Comics, National Allied and Detective Comics, Inc. were merged into a single entity, National Comics.
World's Finest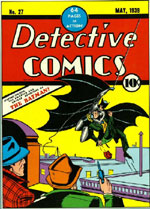 Batman's first appearance in Detective Comics #27, 1939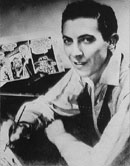 Bob Kane
Due to the soaring popularity of Superman, as well as the growing incomes of Siegel and Shuster, Bob Kane, a cartoonist who made a humble income doing fill-ins, chose to abandon humor features in favor of creating a new hero. His inspirations were many; among them were a flying machine designed by da Vinci, Douglas Fairbank's
Mark of Zorro
, and the serial
The Bat Whispers
. In time it all gelled into the Batman, who made his first appearance in
Detective Comics
#27, in May 1939, before starring in his own title less than a year later.
Since their debuts, Superman and Batman have often been compared to their pulp predecessors, Doc Savage and The Shadow. One is a virtuous public figure, the other a mysterious creature of the night operating on the fringes of the law. But unlike the pulp characters, Superman and Batman have shared a partnership over the years, usually being portrayed as the best of friends. In more recent years, the relationship has become strained due to their differing modus operandi. However, it's difficult to argue that one character compliments the other, leading to a mutual respect that is undeniable.
Batman may have been originally conceived to capitalize of Superman's popularity, but to call him an imitator would be unfair, especially in light of the many costumed heroes that would follow. DC continued to create a number of properties, but most knock-offs came from other publishers. Some were so obvious they folded under the threat of legal action, others abandoned by their publisher, only to absorbed into DC's stable of stars. However, Fawcett Publication's Captain Marvel proved more of a legal challenge. Immediately following his release, DC cited copyright infringement and instigated a legal battle that would last 14 years.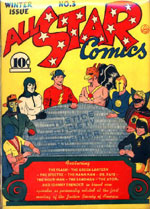 As costumed heroes began to fill the racks of newsstands everywhere, perhaps Donenfeld believed the market to be saturated. He resisted Liebowitz's efforts to expand National's line, so the accountant looked elsewhere, namely the McClure Syndicate. There, he found editor Charlie Gaines, with whom he formed All-American Comics while retaining his partnership with Donenfeld. The two companies were sympatico, cross-promoting each other's product. All-American titles included
Flash Comics, Wonder Woman
and
Green Lantern
. The three characters would also team up, along with Hawkman, Dr. Mid-Nite, Atom, Starman and others, to form the Justice Society of America.
Our World at War
As the Great Depression began to ease, new opportunities in the realm of fantasy fiction appeared. Mort Weisinger and Julius Schwartz were two long-time science fiction fans, and had developed relationships with some of the bigger names in the pulp business. Together, they formed Solar Sales Service, which represented a number of pulp authors, including newcomer Ray Bradbury. Weisinger eventually left to edit
Thrilling Wonder Stories
, then moved into comics at DC until his career was interrupted by World War II.
Schwartz stuck it out a few more years until the pulp market narrowed due to wartime circumstances. Alfred Bester, one of Solar Sales clients, was now writing
Green Lantern
, and in February, 1944, when editor Sheldon Mayer was in need of an assistant, Bester encouraged Schwartz to apply. A few months later, Jack Liebowitz bought out Charlie Gaines' share and combined All-American and National Comics Inc., into National Periodical Publications. Gaines would form his own company, EC, publishing such titles as
Tales From the Crypt
.
Throughout World War II, heroes everywhere went to war, inviting stateside loved ones to buy war bonds, support the U.S.O. and to do their part to conserve materials during wartime. Meanwhile, America instituted a number of programs to conserve valuable resources, such as rubber or paper, which could be used for the war effort. Metal that had once been used for printing plates in the publishing industry was now needed for the construction of planes, tanks, battleships and other needs. Gasoline was rationed, often making shipping problematic. As a result, circulation figures began to erode, and readership diminished.
Many of those readers were boys who were now old enough for military service. Nevertheless, whatever dangers their heroes had faced in comic books and pulp magazines couldn't have prepared them for the all-too-real threats of the battlefields of Guadalcanal or the skies over Europe. Care packages from home arrived, some containing their younger brother's comic books, inspiring Allied soldiers to victory.
In the years since his debut, the Man of Steel would successfully be featured in radio, animation, books, and film. All this time, Siegel and Shuster had been performing work for hire while the management got richer off the licensing of the character they created. They initiated a lawsuit in an attempt to be suitably compensated, but National argued that they'd assumed a business risk. Had Superman failed, the shoe would be on the other foot. It would be years before the two young who breathed life into the comics industry would receive the recognition they deserved.
Tomorrow: Crisis – and the Infinite Earths
Last Updated: February 5, 2023 - 09:06